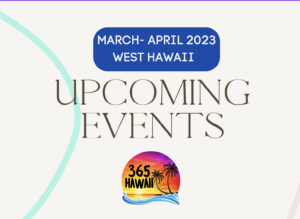 Three years ago this month, all the fun shut down when the pandemic started and all of the festivals and events were halted for two long years. We are seeing the roll out of our "usual suspect" annual events like the Brew Fest, Tropical Paws Gala and the Big Island Chocolate Festival which signals spring in West Hawaii. New this year is a Steel Guitar Festival. As the founder of the Best of Kona Festival, usually held in the spring, I am working to get volunteer leadership to help put it on for the benefit of the community as a free event, If you love a good annual festival and want to be part of helping spearhead one, email me at Julie@Ziemelis.com and perhaps we can have a fun fall festival in 2023.
March 10, 2023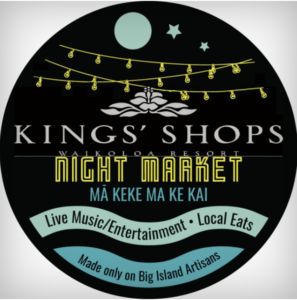 Kings Shops Night Market 
The Kings Shops has launched a twice a month Night Market to include live music, vendors and food trucks from 4-8 pm and it's free! The next one will be March 25th. You can check out all the events they are holding at https://kingsshops.com/events/
March 11, 2023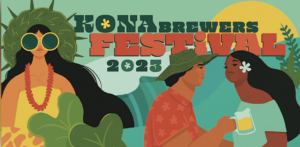 28th ANNUAL KONA BREWERS FESTIVA
The 28th Annual Kona Brewers Festival is back in its original form, from 4-7 pm, at King Kamehameha's Kona Beach Hotel lu'au grounds.
Cost: $100 per person.
This beloved event that sells out every year is hosted by The Ke Kai Ala Foundation, and is a community celebration and fundraiser that benefits Hawai'i programs supporting environment, culture and youth. Attendees can enjoy tastings of over 30 local and craft brews, gourmet bites from over 24 local chefs, live music, and the much anticipated Trash Fashion show. KonaBrewersFestival.com.
March 11, 2023
16th Annual Run for Hops 5K/10K Run/Walk
7:30 a.m. start at BMW in Kailua Kona
Cost: $40
Beer lovers can kick off the day at BMW with a fast flat course around the Old Airport/Makeo Walking Trail and past Kona Commons. Finishers enjoy a cold brew at the finish line!
March 18, 2023
Luck of the Irish – Celebration in Honoka'a on Mamame Street
10 am – 6 pm
Maybe it's the pot of gold at the end of the rainbow. Maybe it's the call of the piper across the green hills of Hāmākua, or the scent of your favorite Irish stew and stout wafting down Mamane Street. Whatever calls you to Honoka'a for a St. Paddy's party on Saturday, March 18, dress green, put on your smiling Irish eyes, and come to enjoy Celtic music, dance and song, food trucks, games to try your luck, merchants peddling their wares and more.
March 19, 2023
Monthly Kokua Kailua Village Stroll
1-6pm
Located on Alii Drive near the Pier, the street is closed for the Stroll with local vendors and artists' booths. Leashed dogs welcome.
March 23-25, 2023
Big Island Art Fair – Kamuela
Kahilu Town Hall
Local Art for Sale. Demonstrations, Contests and Prizes! Fair Hours: Thursday, March 23rd 10:00am – 5:00pm Friday, March 24th 10:00am – 6:00pm Saturday, March 25th 9:00am – 4:00pm This month the Artists are competing in "Real or Imagined Spring Landscape"Art Contest. Come vote for your favorite and help an Artist win $250! On Friday at 4:00pm a lucky fair visitor will win $100 to spend at the Fair!
March 23-25, 2023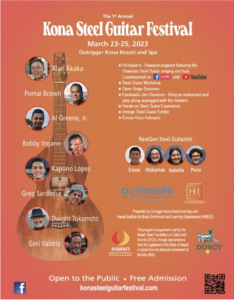 Kona Steel Guitar Festival
The first annual Kona Steel Guitar Festival is coming to the Outrigger Kona Resort and Spa in 2023 in Keauhou.
The Kona Steel Guitar Festival will bring the Hawaiian steel guitar experience to Keauhou, about a half-hour from the Kona airport. The festival will also extend that experience to the newly-relocated Aloha Music Camp participants who may have previously enjoyed that experience when the Camp was held on Kaua'i. As in prior years, the Kona Steel Guitar Festival will be presented in the days preceding the Aloha Music Camp.
https://www.konasteelguitarfestival.com
March 25, 2023

Tropical Paws Gala Benefiting Hawaii Island Humane Society
Tropical Paws returns to raise much needed funds for shelter animals at the Hawaii Island Humane Society's 25th Annual Tropical Paws benefit gala. As Hawaii Island's most memorable event for the animals, Tropical Paws takes place at the spectacular Four Seasons Resort Hualalai.
Enjoy meeting pets in need of loving, forever homes. Savor a gourmet dinner and sip on craft cocktails, wine and beer. Raise your paddle and support the Hawaii Island Humane Society in its mission to prevent cruelty to animals, eliminate pet overpopulation and enhance the bond between humans and animals.
Tickets for Tropical Paws are $300 per person Limited tickets are now on sale online at https://hihs.schoolauction.net/tropicalpaws2023/
April 9-15, 2023
Merrie Monarch Hula Festival – Hilo
The prestigious hula competition returns. The hula competition will take place the last three days – April 13-15. Twenty-three halau will be participating this year; three from the Big Island, 14 from O'ahu, 4 from Maui, and 1 each from Kaua'i and Washington State. Please visit www.merriemonarch.com for more details.
April 28-29, 2023
Big Island Chocolate Festival
The delicious flavors and aromas of chocolate will "Indulge the Senses" at the Waikoloa Beach Marriott Resort & Spa. The "Indulge the Senses with Chocolate" theme marks the festival's 10th anniversary. In-person activities include culinary demonstrations for the home cook, cacao growing and processing seminars by industry experts, a new VIP-PLUS pre-gala Sunset & Pupu Pairing and a festive evening gala with culinary booths, chocolate fountain, entertainment, dancing, a silent auction and some surprises! Guests can enjoy unlimited wine, beer and a custom spritzer by Ola Brew, iced tea and coffee. At the gala, a panel of invited judges and attendees will again vote on best sweet and savory selections while culinary stations will vie in a contest for Best Decorated Booth to this year's sensory theme. A photo booth will provide fun, playful props geared to the "Indulge the Senses" event theme.
A general admission gala ticket is $99 while a VIP-PLUS ticket is $189. Also available are specially priced event room packages at the Waikoloa Beach Marriott Resort. Educational activities and prices will be announced on the website. Details: https://bigislandchocolatefestival.com
Have an event in West Hawaii coming up?
Feel free to send me an email at Julie@Ziemelis.com for consideration and inclusion! This calendar gets published on the "365 Things to Do in Kona" Facebook page, 365Kona.com, Kona Newbies Group, Kohala Newbies Group, 365 Things to Do in Kohala and sent out via email to 1000 people! If you would like to be on the events calendar email list, email me, too!
Check out our 365Hawaii YouTube channel too, for fun things to see and do around the island. Here is our latest video!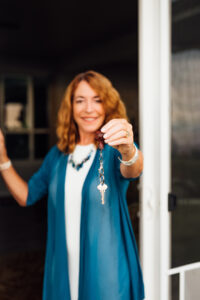 Julie Ziemelis is a Realtor Salesperson and a community volunteer helping West Hawaii. If you are looking to buy or sell a home on the island, contact Julie as she has her 365Hawaii Group with KW Big Island to help anywhere you may be looking on Hawaii Island or the other islands, as well! RS-85062.
Julie also is the author of "How to Move to Kona"  and "The Insiders Guide to Buying Real Estate on the Big Island". Email Julie for a free pdf!