A few things that make July a great time to be here in West Hawaii is the sand is back on the beaches, the ocean is warm and calm, and the plumeria is in full bloom, scenting the air with its tropical fragrance. We also have some great fireworks and events for the 4th of July in Kona and family fun in Waikoloa and the Mauna Lani Resort to enjoy, too!
Upcoming Events
July 4, 2023
4th OF JULY FIREWORKS – Kailua Kona
Parade at 6pm; Fireworks over Kailua Bay at 8pm.
You can come early to the parade route to set up so you can see the parade and the fireworks. Some folks like to get seats at the restaurants and bars along Alii Drive to see both, as well.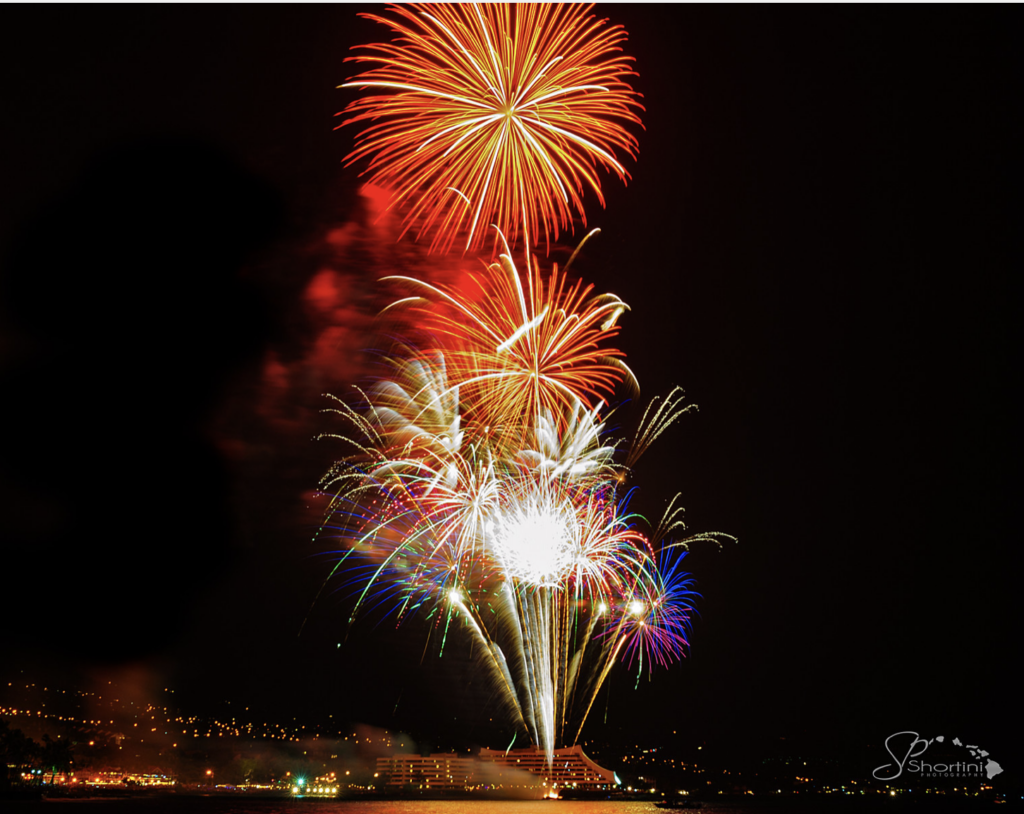 July 4, 2023
GREAT WAIKOLOA RUBBER DUCKIE RACE – Waikoloa Resort/Kings Shops
Enjoy entertainment, free keiki activities, merchant offers and the 10,000 bathtub cuties paddling to victory for their adoptive owners. First 50 finishers and last place duckie wins prizes! Here is the schedule of events!
DAY OF SCHEDULE
:
11am // A-Bay's Island Grill Watermelon Eating Contest
12p // Original Big Island Shave Ice Co. Shave Ice Eating Contest
1p // Live Performances
3p // Great Waikoloa Rubber Duckie Race at Lakeside
3:30p // Duck Waddling & Duck Calling Contests
4:30 // Duck Hunt Winners
5p // Awards Ceremony
Turtle Independence Day at the Mauna Lani
An annual community celebration that has endured for more than 30 years, Turtle Independence Day represents the rebirth of our Green sea turtle hatchlings after 2 to 3 years of growth in the turtle pond. Gather along Mauna Lani's oceanfront on July 4th, aptly known as Turtle Independence Day, to witness their homecoming to the Pacific Ocean. Learn more here: https://aubergeresorts.com/maunalani/culture-heritage/inquiry/
July 25th 5 -6:30 pm
Under The New Moon​
​Outrigger Kona Resort and Spa
Bring your chairs or blankets for an evening of culture and connection as Kumu Keala Ching provides entertainment and insight into Hawaiian culture.
Musical Theater at the Kahilu Theater in Waimea
Into the Woods by Hawaii Performing Arts
Saturday, July 22, 2023 7:00 PM
Sunday, July 23, 2023 4:00 PM
Sondheim's Tony Award-winning musical takes us on a magical journey in search of the cow as white as milk, the cape as red as blood, the hair as yellow as corn, the slipper as pure as gold! Approximate run time for show is 2.5 hours with intermission
Price $48 / $38 / $28
Experience Volcano Festival
July 29 and July 30- 10 am- 4 pm
Experience Volcano Hawaii is proud to announce the return of its 4th annual festival this summer! This unique festival offers locals and visitors a wide array of art, food, music, Hawaiian cultural performances and more! Festivities will span from the Volcano Area with a concentration of activities in the heart of historic Volcano Village. Restaurants will be featuring special menus and drink options alongside their everyday menus. So mark your calendars now for this FREE family friendly event that offers local and visitors the opportunity to Experience Volcano Hawaii!WEBSITE
FOR KIDS: Looking for a way to get out of the sun and provide your Keiki with entertainment AND education? Hawaii Keiki Museum in Kona, at International Marketplace is the place this summer.
July 2023 Events at Hawai'i Keiki Museum
Subject to Change – please inquire at the Front Desk 808-731-6311 or check out the website
4th of July – Community FREE ADMISSION Day–
Experience the museum with FREE ADMISSION thanks to a generous sponsorship by KTA Super Stores in celebration of summer in Kailua-Kona
10am – 5pm
Story Time at Hawai'i Keiki Museum
Ideal for keiki aged 0-5
Caregivers must attend with children (not a drop-off event)
Every Monday from 10:30am – 11:15am
July Theme: Count Me In! Numbers and Math.
Storytime meets in the Library Nook
Regular Admission Applies
Chess Mates – In-Person Keiki Chess Matches
Ideal for all abilities – newcomers welcome
Caregivers stay with the children (not a drop-off event)
Every Tuesday from 4:00pm – 5:00pm
Bring a chess board, if can
Chess Mates meets at the Picnic Table/Periodic Table Mural
Regular Admission Applies (NOT meeting Tuesday, July 4)
Sensory Friendly Hour
Ideal for all ages and abilities
Caregivers stay with keiki (not a drop-off event)
Every Tuesday from 4:00pm – 5:00pm
Quiet environment for family members who have sensory needs.
Regular Admission Applies (NOT meeting Tuesday, July 4)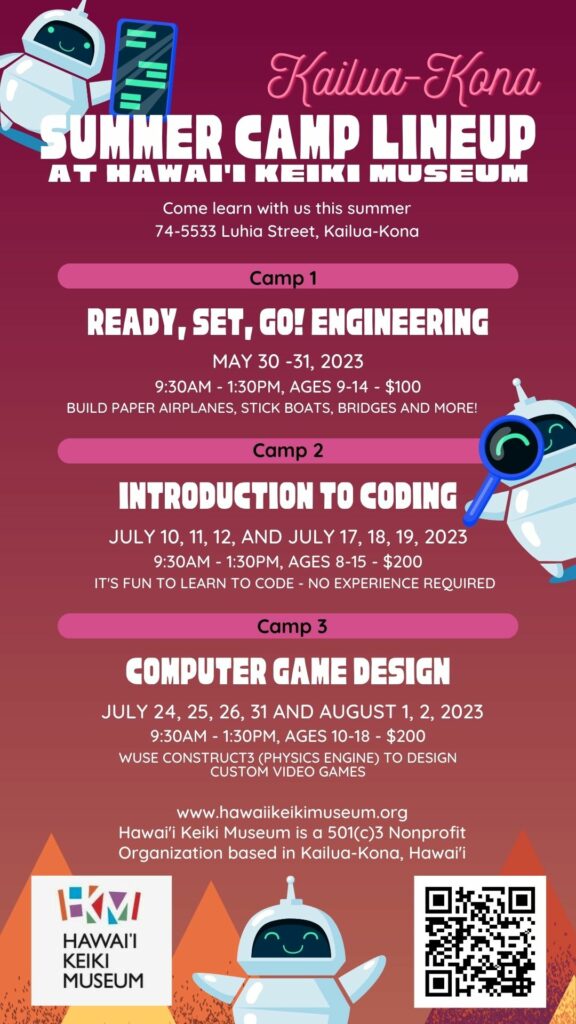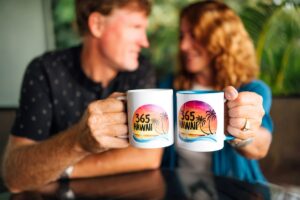 Living Life Well in West Hawaii! 365Hawaii Group Keller Williams Realty
The events calendar is brought to you by Eric and Julie Ziemelis, Realtors, Keller Williams Big Island/365Hawaii Group. We help folks not only buy homes on the island, but offer moving resources/guides/books, community building opportunities, private events, market update video reports, and our services to ensure you have not just a great experience in getting into a home, but get the resources and connections you need afterwards to help make your life on the island more meaningful and connected. Email Julie at Julie@Ziemelis.com for more info and join the 365Ohana for free resources and access to private Facebook groups.