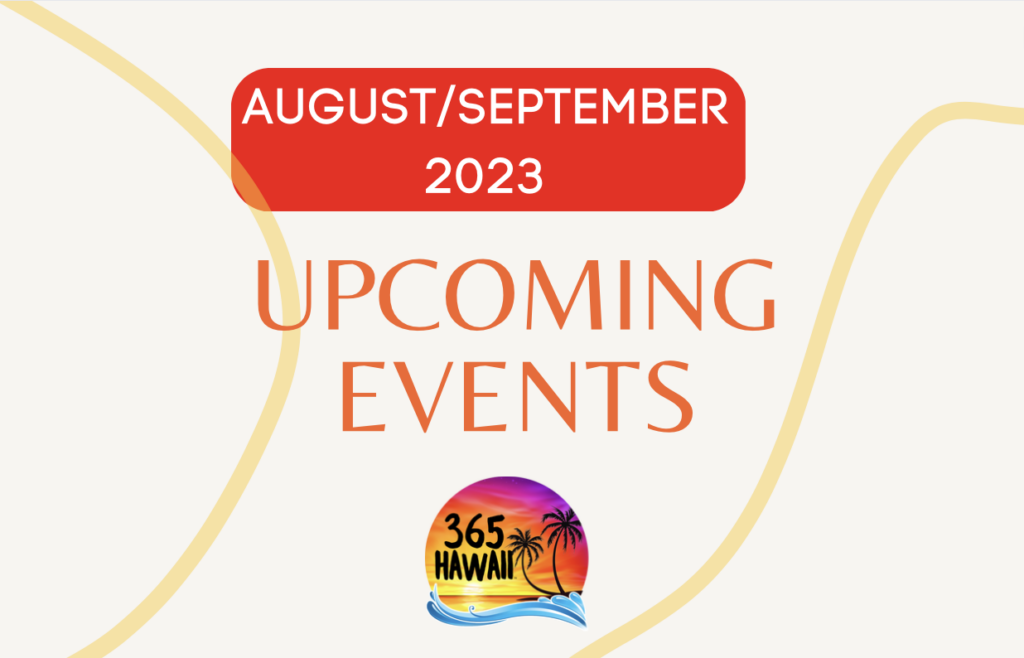 While much of the country is still enjoying summer, Hawaii sends its students back to school on August 7th, so for parents, the routine of driving to school, meetings and lunch making is coming back full swing. For people who love to swim in the ocean, this is the perfect time of year for warm water and warm days with a healthy dose of humidity to make any ocean time, a good time! While many people are still traveling for their summer vacations, the middle of August and September are the "slow season" for West Hawaii, so time to enjoy the activities that are so busy up until now and you just may get a kama'aina discount, too! Here are some fun things to do over the next two months before the women athletes of the 2023 IronMan World Championship arrive!
August 4th- National Park Fee-Free Day
Enjoy our island national parks for free in honor of the anniversary of the Great American Outdoors Act! Volcanoes National Park is great for hiking right now due to the ebb in tourists AND fresh lava. And don't forget Puʻuhonua o Hōnaunau National Historical Park in South Kona, a great picnicking place and spending time learning the Hawaiian history of the area.
August 5th- 13th Annual Mango Festival
Who loves mangos?! Come to Hale Halawai in the Kailua Village and check out the vendors and the mango varieties on display. This event is a great way to enjoy food and community and it's free! Starting at 10 am.
August 9th – Dance Night at the Big Island Social Dance Club Featuring Loren Wilkens and Bill Noble
2x Hoku winner and Grammy nominated in the nationally touring Hawaiian Swing Band Kahulanui, Bill Noble blesses Kona with his always grooving sax and impeccable backing tracks (for that FULL BAND SOUND) 7:30-9, Cover $10-$20 (dancer discounts, regular cover is $15), BYOB, Air Conditioning! Great dance floor! Come just to LISTEN or DANCE, any style. Instrumental versions of artists like Stevie Wonder, Grover Washington Jr, Eric Clapton, Sade, Ambrosia, Jimmy Smith, Santana, Miles Davis, Thelonious Monk… along with straight ahead jazz and jazz fusion.
BIG ISLAND SOCIAL DANCE CLUB, 74-5583 LUHIA ST, KONA
August 12– Household Hazardous Waste Collection
West Hawai'i Civic Center Parking Lot, 7:30am-2:30pm. Certain restrictions apply. Not Accepted: business or farm waste, electronics, explosives or flares, radioactive materials, tires, latex paint, fire extinguishers, bio/infectious waste. No container returns. Place items (preferably labeled) in trunk or truck bed. For more info, visit HawaiiZeroWaste.org, or call (808) 961-8554.
Small Kine Local Events
August 11 – Truffle Making Workshop Puna Chocolate Company
Check out the fun at the Puna Chocolate Company where they are hosting weekly events to include whisky and chocolate pairings and this month, truffle making from 7-8:30 at their location at the Brewery Block. More info and tickets here:
August 19 – Pink Beach Paint Party
Join local artist Tia Starr in her monthly paint night! Enjoy painting at Olivia Clare's -The Loft in the Brewers Block , Kailua Kona. BYOB and friends to experience painting in a beautiful space. August is focusing on painting a pink beach in Hawaii. Cost is $65. Tickets here
August 20 -Monthly Kailua Village Stroll
From 1 – 6 pmStrollers along Alii Drive will be able to connect with merchants showcasing carved Koa wood art, natural oils, handmade soaps, jellies and jams, clothing items, food, jewelry and more, all promoting Hawaii made products in historic Kailua Village. In keeping with the spirit of kokua, characterized by kindness and a desire to be of help, come support the history, culture and celebrated artisans at Kokua Kailua in historic downtown Kona.
August 27 – 38th Annual Kona Daifukuji Orchid Club Show and Sale
This much anticipated event will take place at Daifukuji Soto Mission Hall (next to Teshima's restaurant) in Hanalo, from 8am-noon. The free event offers attendees a complimentary orchid bookmark, while they last. This year's theme, "Back to Our Orchid Roots," highlights the original orchids native to Hawai'i and the history of how the Big Island became the Orchid Isle. Buy high quality, locally grown orchid species and hybrids, and if you have any questions, see the "orchid doctor." Taiko drummers will perform at 10 a.m. Demonstrations about orchidgami and how to care for your orchids will occur every half hour. Take a self-guided tour of the mission's on-site Orchid Grotto to learn ways to harmonize and beautify a rock garden with orchids. Get Club updates at www.facebook.com/orchidsinparadise.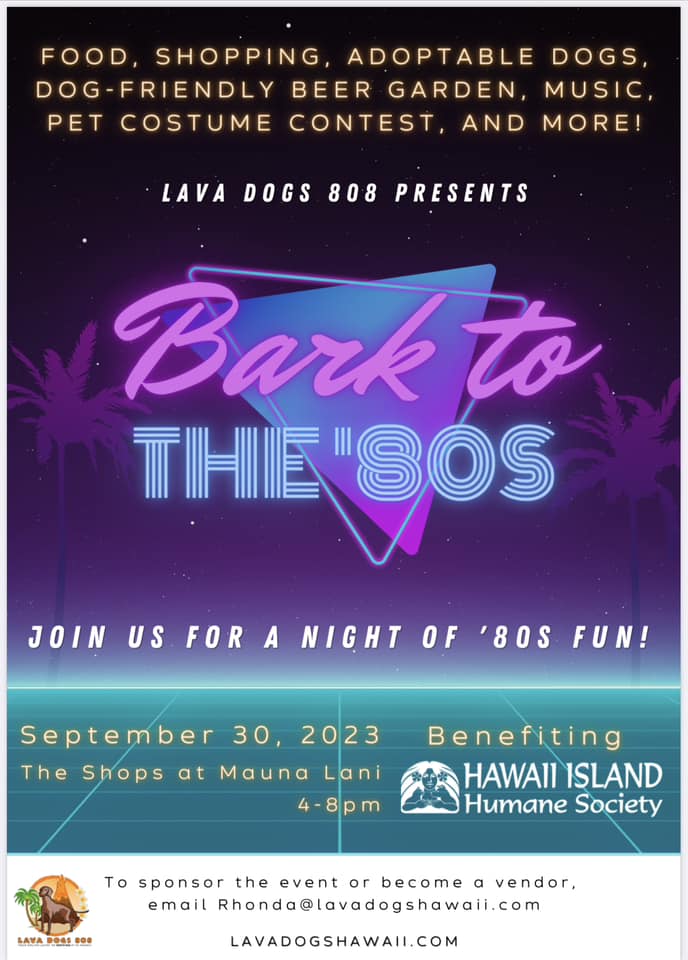 September 30- Bark To The '80s at The Shops at Mauna Lani
Bark to the 80's is the largest community event on Hawaii Island for dogs and their humans! Shops at Mauna Lani 4-8 pm.We will have lots of pet-related vendors, food, pet costume contest, adoptable dogs, beer garden, and more, all to promote responsible pet ownership and benefit Hawaii Island Humane Society!
August 31 – Hawaii Island Small Business Resource Seminar
CBED, EZ, HiSTEP, MAP, MEP, SBIR… sound like alphabet soup to you? These are programs that can help grow and expand your business! Come and meet representatives from the Department of Business, Economic Development and Tourism (DBEDT), and the Hawaiʻi Technology Development Corporation (HTDC) and learn more about these programs.
9 am- 11 am at the Hale Iako, Room 208 at NELHA 73-970 Makako Bay Dr.
Seminar Registration: This is a free event, however, pre-registration is required for seminar. Deadline to register is August 28, 2023. Click here to reserve your space.
SEPTEMBER
September 2–Poke and Seafood Festival at Umeke's
Celebrating the 50th Annual Queen Lili'uokalani Long-Distance Canoe Races, this event will feature a Poke Contest for professionals and amateurs alike; entertainment; vendor booths; keiki games; food and drink. To be held in the parking lot of Umeke's Restaurant (74-5599 Pawai Pl., Kailua-Kona). Tickets available at umekesrestaurants.com.
September 8-9 -Run For Hope Weekend
The weekend kicks off with the popular Taste of Hawaii Island culinary event on Friday at 6:00pm. Capturing talented chefs from around the Hawaii Islands in one place for an evening of tasty delights, drinks and island music at the beautiful Four Seasons Resort Hualalai. Price in advance for adults is $125.00, children 5-12 are $45.00 and children 4 and under are free.
On Saturday morning – the annual Run for Hope will take place at 7:00am with a 10k run and 5 k run/walk along the beautiful manicured resort landscape. The event concludes with refreshments and raffle prizes at the Hoku Amphitheater. Cost to enter is just $50.00 in advance – both include a custom t shirt. Registration begins at 6:30am with warm up at 6:45am and an awards ceremony follows.
There is also a golf tournament and tennis tournament. Join us for any one or all of these great events. You can register online at active.com or call 808-325-8000 and a form can be mailed, emailed or faxed to you.
September 15-17-Kona Pride Festival
Come join three days of fun at the Courtyard by Marriott King Kamehameha Kona Beach Hotel from 1-5 pm. 9 events including YOGA, POOL PARTY, and TEA DANCE! Tickets are $150 for an all access pass. Purchase tickets here. Vendors are being sought now.
West Hawaii has some great events coming up! If you know of others that you would like to share or upcoming events for the Fall, email me at Julie@Ziemelis.com. Please share this calendar to support our awesome business owners and events planners!
The event calendar for West Hawaii is sponsored by the 365Hawaii Group of Keller Williams Realty Big Island. Team members are Julie and Eric Ziemelis, Realtors and founders of 365Hawaii YouTube channel, the 365Kona Newbies Group, Hilo Newbies Group and Kohala Newbies Group. Our focus is making Big Island a better place to live by creating community and opportunities for Aloha.
Thinking of buying real estate or just learning more about purchasing a home? Join our 365Ohana! or email Julie at Julie@Ziemelis.com