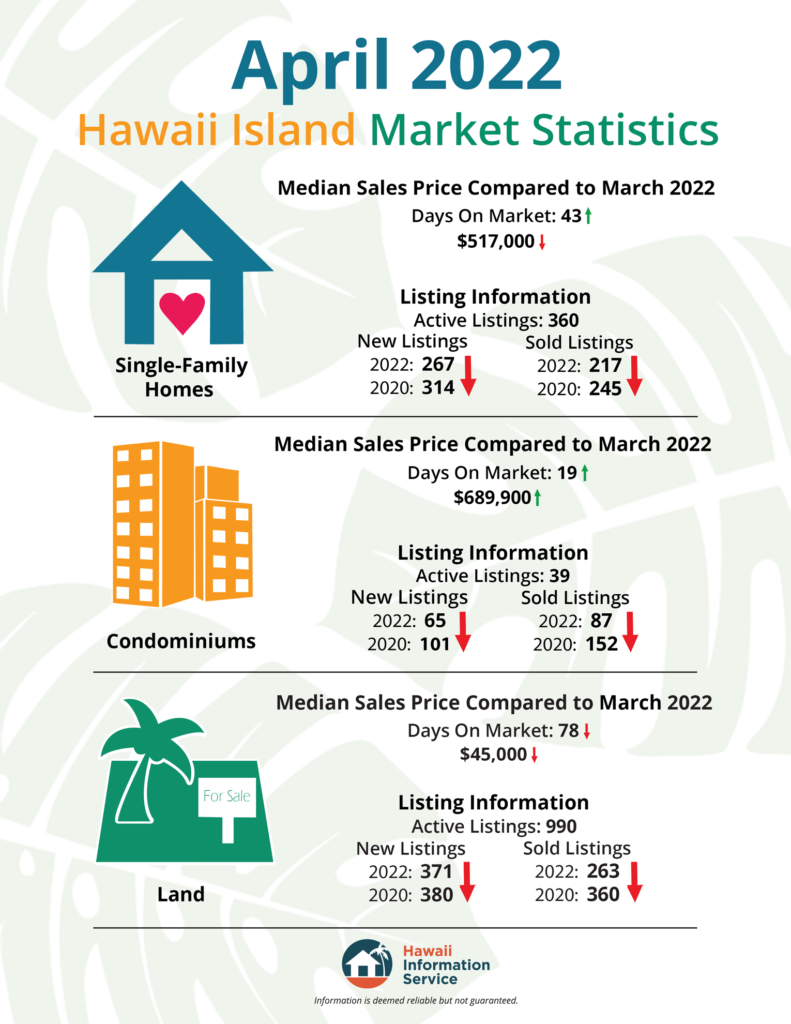 Your April 2022 Hawaii Island market update graph comes compliments of the Hawaii Information Service of which I (Julie Ziemelis) am now a member because I am a licensed REALTOR!! Yeah!! (I passed my tests and got my license early this year, signed on with Keller Williams Realty-Maui/Big Island Division in March, and joined the local Association of Realtors and MLS this month!
I love having access to all the numbers, so I can start offering some blog posts that not only have month to month numbers, but also quarterly and add historical data, as well.  I will post the Hawaii Island Market Stats infographics each month. As you can see, the infographic is for the WHOLE ISLAND. So, these include numbers from Pahoa, which are VASTLY different from numbers for Kailua Kona and Kohala. However, it gives you a snapshot of how busy the entire island has been this past year.
North Kona Quarterly Sales Statistics:
Here are some numbers for West Hawaii that show we are still deep in seller territory and the consistent lack of inventory is continuing to give the upper hand to sellers. HOWEVER, with interest rates rising and some buyers pulling back to take a wait and see approach, the recent data shows that some homes are still going over asking price in North Kona, but some are going at asking, and a few under asking price.
North Kona Quarterly Stats: Residential median price: $1,095,000, a 21% increase from the first quarter of 2021.
Condo median price: $492,500, a 20.86% increase from first quarter 2021.
Vacant land: $629,000, a 27.72% increase from the first quarter of 2021.
I will be watching the data closely and provide more information in July.
If you are looking for a home on Hawaii Island, I have trusted referral partners around the Island! We provide complimentary moving resources and access to private Facebook groups to find community and learn more about buying a home when you join the 365Ohana! 
I sit down with the President of the West Hawaii Association of REALTORS, Lance Owens, each month to discuss market statistics and trends and answer questions live from our private Facebook group. I release that video on our 365Hawaii Real Estate Moment YouTube channel shortly afterwards.