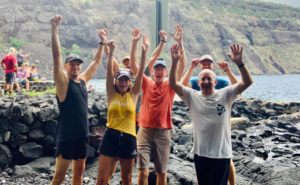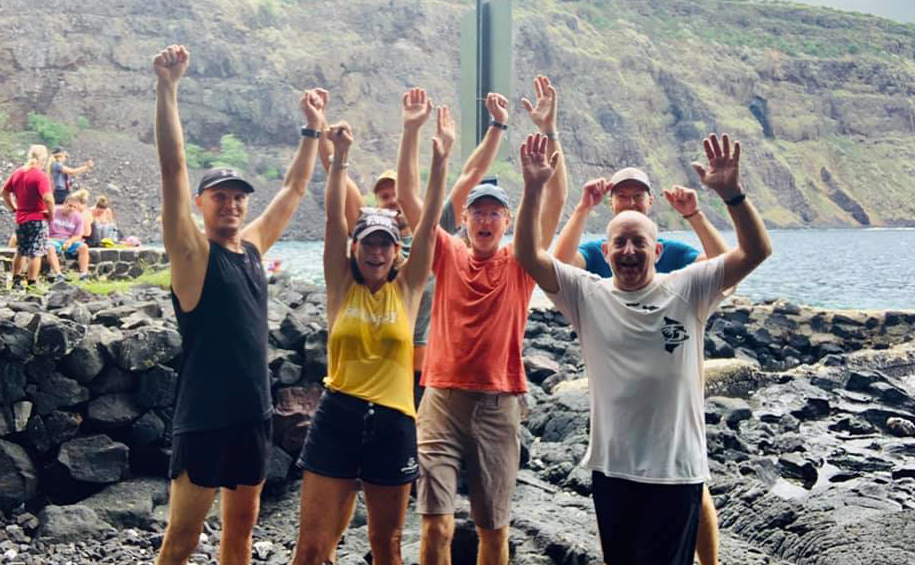 The visitors are coming, the visitors are coming! After 7 months of a lockdown on travel to Hawaii without quarantine, thousands of hospitality workers, small business owners, and vacation rental owners are holding their breaths and hoping this is the beginning of tourism back into the islands – and that it keeps on going.
Beginning today, Thursday, October 15, passengers who successfully complete a pre-travel test will not be subject to the state's 14-day quarantine program. 
FDA-approved NAAT tests, processed by a CLIA-certified laboratory are the only types of coronavirus tests currently approved by the state of Hawaii. IMPORTANT:  The State of Hawaiʻi will accept test results ONLY from TRUSTED TESTING AND TRAVEL PARTNERS: AFC Urgent Care, Bartell Drugs, Carbon Health, City Health Urgent Care, Color, CVS Health, Discovery Health MD, Kaiser Permanente, Quest Diagnostics, Vault Health and Walgreens (as of 10/13/20)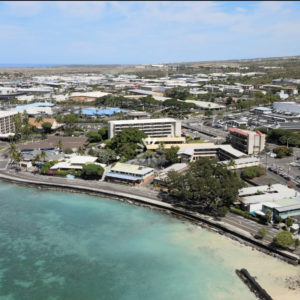 Big Island of Hawaii
This information is directly from the County of Hawaii:
3 different things that may happen for arriving visitors.
1.They do not take a pretest before arriving in Hawai'i:  → automatic 14-day quarantine upon arrival at any of 3 airports on Hawai'i Island.
2.Trans-Pacific travelers to Hawai'i Island, five years and older, wanting to bypass the mandatory 14-day self-quarantine period can choose to participate in the State's pre-test program. (those age 5 years and under do not need a test.)
3. Travelers must take an approved COVID-19 test within 72 hours prior to arriving in Hawai'i. Upon arriving on Hawai'i Island, they will be required to take a free secondary Covid-19 antigen test administered by the County of Hawai'i. Again, it is FREE. This antigen test will provide results within 15-20 minutes while travelers are still at the airport.
If a traveler tests negative for COVID-19, they will not be subject to self-quarantine.
Those testing positive for COVID-19 with the antigen test will be required follow Department of Health procedures and immediately take a free PCR test and self-quarantine while awaiting the results of the PCR test, which is expected within 36 hours.
All incoming travelers to Kona will be required to take an antigen test when they arrive at Kona International Airport. The antigen testing site is a new facility within the Kona airport. 
Hilo and Waimea also have testing sites at their airports, as well. 
If a person tests positive after taking the antigen test, they then have to follow DOH procedures. It is DOH performing the PCR test, NOT the County. The PCR test results take 36 hours and the person/family needs to quarantine that whole 36 hours. If the PCR test is positive then they have to quarantine for 14 days. (Again, if you have a family of 4 arrive and mom tests negative, but Dad tests positive, then the whole family has to quarantine for 14 days.)
 Once you test negative, GO ENJOY YOUR TIME HERE! 
What About Interisland Travel? 
Interisland travelers arriving on Hawai'i Island have to quarantine for 14 days.
Maui and Kauai ― but not Hawaii Island ― will allow inter-island travelers to produce a negative COVID-19 test taken within 72 hours of travel in order to avoid quarantine.
"Kauai County and Maui County will be implementing the inter-county travel testing program on Thursday," said Governor Ige. But inter-island visitors arriving on Hawaii Island, like those whose flights originated from across the Pacific, will need to quarantine until receiving the results of a post-arrival test.
 It is up to Governor David Ige  to decide whether to extend the testing programs and keep the quarantine in place for Hawaii County, or lift it and allow residents and visitors to freely travel between islands.
What To Expect At The Airport:
Airport personnel will be there taking the temperatures of all arriving passengers. If you have a temperature over 100.4 degrees, you will be requested to take additional screening.  At each of the terminals there will be staff there to guide people, making sure they're in the correct line.
Four lines will be available for arriving passengers: One for people without a QR code, one for people with a QR code and a negative COVID-19 test, one for people with a QR code but no negative test and one line for exempt people (flight crews, active military).
In order to get that QR code, create a Safe Travels login. Everyone must have a valid email. There, you can add your trips, fill out your health questionnaire and upload documents.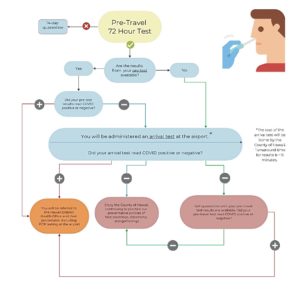 Hawaii Travel Resources:
The state of Hawaii has created a very helpful website: https://hawaiicovid19.com which can answer many questions concerning travel to Hawaii.
If you would like to see the flow chart the state created to make it easier to see what the requirements are for travel and what happens if you test positive for COVID-19 along the way, check this out: https://hawaiicovid19.com/travel/ 
We are hopeful that COVID-19 cases do not increase dramatically, as the County Mayors have said they will shut down their respective islands to mainland and/or inter-island travel if they do. I will be keeping this page updated for news as it happens if there are significant changes to traveling to the islands.
Flying United Airlines?  Here is the latest on what they are offering in terms of testing at the airport and best ways to get ready for your flight.
Flying Hawaiian Airlines? They are offering an at-home COVID-19 test through VAULT.  (Not free)
Flying Delta Airlines? Here are their helpful FAQ's (including wearing masks on the plane) 
Now that you can travel to the islands without the quarantine, is it time to purchase a home? If so, please contact me directly and let's get you together with a team of real estate professionals!