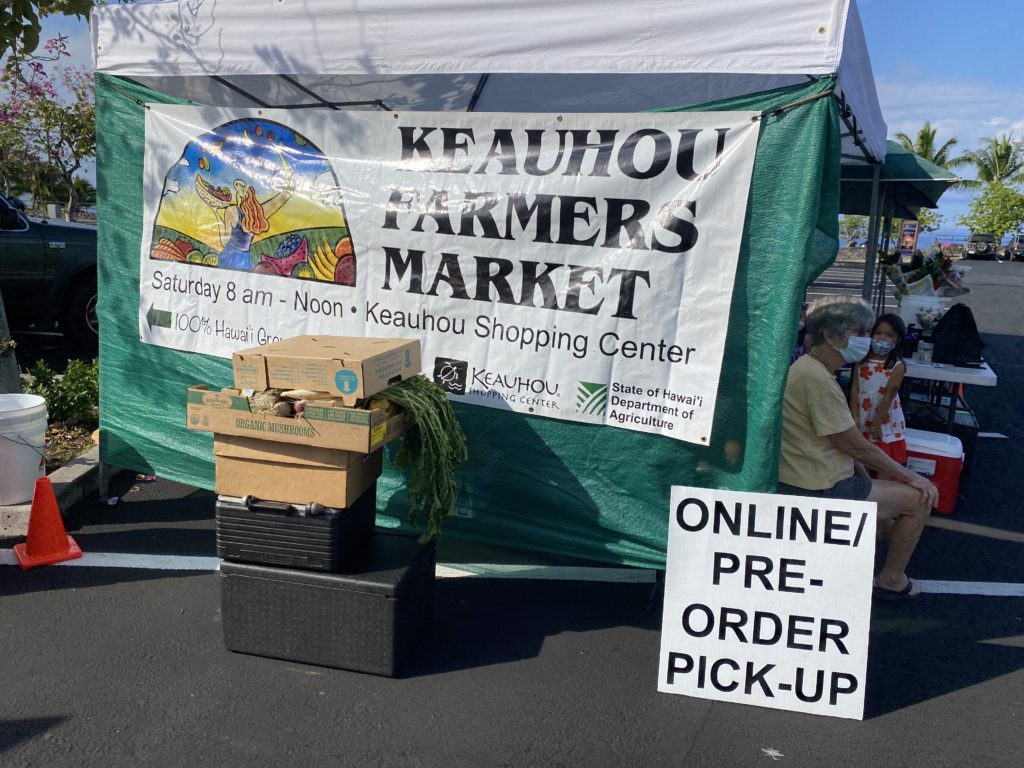 One of the BEST aspects of moving to Hawaii is being able to eat and enjoy farm fresh produce, tropical fruits and island raised meat and local caught fish. With the depletion of the nutrients in the soil on the mainland due to commercial farming techniques and mono crops, Hawaii is becoming a true food oasis and access to fresh food has never been easier.
I was just talking to my friend Dania Katz, publisher and owner of Edible Hawaii Magazine today. Dania shared that the trend used to be finding the farmer through food to table events. Now, it's about how to access the food directly. Before the pandemic, there were only a handful of CSA's in Hawaii. Now, Dania shared, there are over 80 CSA's in a rapidly growing online/pick up and delivery business which is supporting many of our local farmers.
What is a CSA or Community Supported Agriculture/Food Hub you may ask?  A CSA's mission is to produce and distribute fresh, organic produce while serving as a sustainable and social network for the surrounding community and they are flourishing during COVID days as they feed the need for "farm fresh to you" in Hawaii.
Here are CSA's on Hawaii Island, but you can find more on any of the other islands, as well!
North Kona
CSA: Adaptations Inc
I have been a customer of Adaptations for a few years to help support local farmers AND to eat fresh! Members earn referral in-store credit when a new member signs up and drops their name (so remember to say 365Kona sent ya!) Shop online for local produce and pick up at a convenient site or opt for home delivery; what could be a simpler way to increase your intake of fresh fruits & vegetables? Add locally made dressings, hot sauce, ketchup, mustard, sauces, mushrooms, Sundog Bread sourdough, artisanal cheese, Maui Nui Venison treats, and you have your core shopping taken care of for the week.
You can choose between the basic feast and the gourmet feast. Members pick up their shares at a choice of four drop points: Kealakekua, Kailua-Kona (2), or Waimea. The basic feast contains mostly raw salad items – lettuce, tomatoes, cucumbers, and a small amount of veggies. The gourmet feast is all that plus more veggies and tropical fruit. Everything is 100% locally grown. The owners, Maureen and Tane Datta, have their own farm in Honaunau and  consolidate harvests from about 30 farmers and gardeners for weekly distribution through Fresh Feast and daily distribution to restaurants and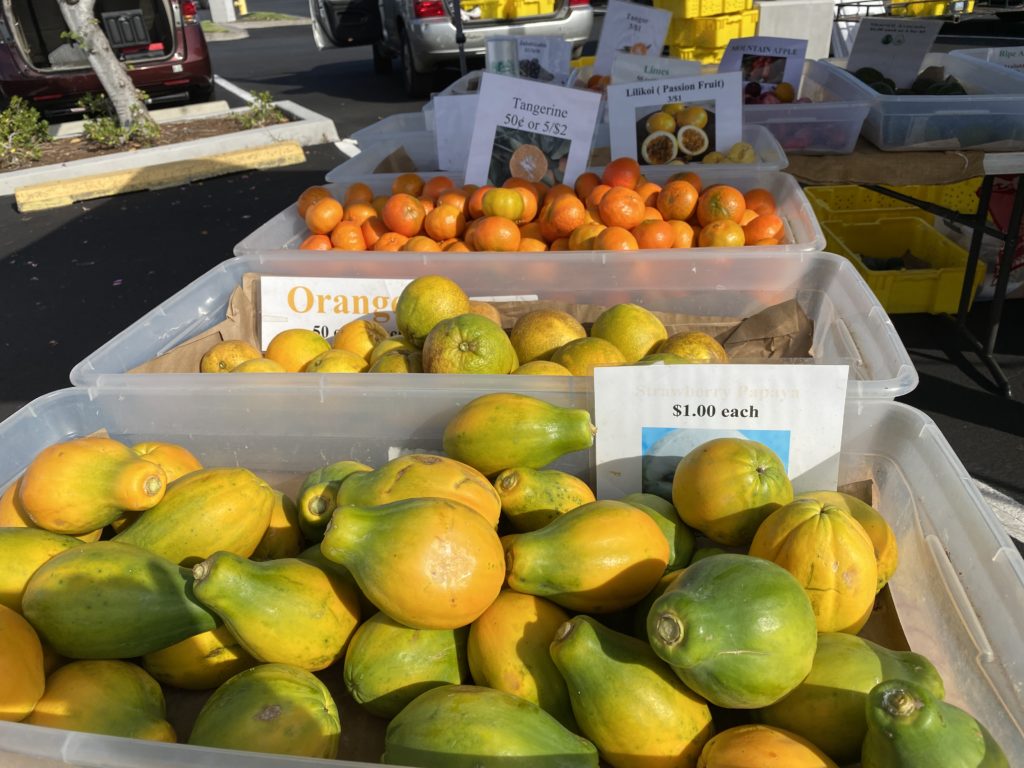 limited stores.  Certified organic.  79-7500 Mamalahoa Hwy, Kealakekua Maureen Datta (324-6600)  adaptations@igc.org; http://www.localharvest.org/farms/M7013
SonStone Farms – Vegetable and Egg CSA
I had the pleasure of meeting the farmer/owner of this new CSA at the Pure Kona Green Market in South Kona on Sunday. He does JUST cucumbers, lettuce, tomatoes and eggs. All grown on his property. (we actually did a quick video interview of him that I will share here when its done!) He is offering a chance to "pre-purchase" a set amount of food that you pay for in advance. (He does NOT have an online store). You can get 2 lbs  of tomatoes, one large head of lettuce, 2 lbs of cucumbers and one pound of mixed greens or veggies. 5 lbs is $25 a week, half share is 3 lbs at $16 a week a dozen eggs for $7.50 a week and you can choose a mix of all of that and he will bag it up and have it ready for you to pick up. You can email him directly at Sonstonefarms@Gmail.com
South Kohala 
CSA: Ka'Ohi Nani Farm
Ka'ohi Nani Farm has been farming organically in Hawai'i for over 25 years. They are now in their second season as a CSA farm. They offer a variety of organic vegetables, eggs, artisan breads, and much more. Weekly newsletters, recipes, complimentary flowers and herbs delivered right to your home or business. They deliver in Waimea and the surrounding areas. Their mission is to produce and distribute fresh, organic produce while serving as a sustainable and social network for our surrounding community. We hope to achieve this mission through our CSA, farm tours, local restaurants, feeding the homeless with our angel boxes and other community connections. Their goals at Ka 'Ohi Nani farm are to produce fresh, healthy foods for our local community, provide a quality of life for the farmers and workers, and sustain economic viability for our farm with care and respect for natures diversity. You can find them on Facebook, too.  Steve and Lark Willey, Waimea – 885-1950
South Hilo
CSA:  Island Goode's, CSA season from May to October.  They provide fresh picked produce using organic practices. These are some of the items you may find in your box: lettuces, spinach, kale, Swiss chard, beets, radishes, carrots, potatoes, asparagus, sweet white corn, tomatoes, peppers, cucumbers, squash, snap peas, snow peas, onions, string beans, wax beans, pac choy, boc choy, daikon radish, basil, oregano, papaya, passion fruit, oranges, lemons, limes, avocados, bananas and more. Everything is grown on our farm. We provide delivery to your home or business in the Downtown/Hilo area on Thursdays from 9am to 3pm. If you are not in their delivery area, you can pick up at the Island Goode's farm on Thursday afternoon from 2pm -5pm. Please sign up with payment one month prior to the beginning of your selected CSA season or seasons. We are starting out with 20 members and will expand membership as we grow.  Contact us by email or call 808-964-2291. 27-2365 Hwy 19 Papa'ikou,
CSA: Big Island Farm Fresh Foods (BIFFF)   Basic Box $20/week, Deluxe Box $40/week. Order before Monday at 6 pm. Deliveries on Thursdays to Hilo, Kea'au and Pahoa. Brittany and Bodhi Anderson, email: bigislandfarmfreshfoods@gmail.com; Web: www.bigislandfarmfreshfoods.com; Facebook: www.facebook.com/BigIslandFarmFreshFoods
Puna
CSA: Ginger Ridge Farm   Certified Organic. Pickup every Sunday from 12-3 pm. We recommend a 6-month commitment. Minimum membership is 1 month with 1 pick-up per week. Trial membership $100/month. Payments due at the first pick-up day of the membership period by cash, check or credit card. 18389 Volcano Hwy, Mountain View. Howard James (968 7622) organicfarming2005@yahoo.com – http://www.localharvest.org/farms/M17758
CSA: Punachicks Farm  We have 6 acres of pasture in Keaau where we raise organic pastured broiler (meat) chickens for the Big Island community. We are trying to fulfill a need that we saw for more local, wholesome alternatives to factory farmed supermarket chicken.  Our chickens are raised in small groups in portable pens that are moved daily to fresh pasture, so that they can enjoy green grass, bugs, fresh air, and sunshine. We use only certified organic feed to supplement what they get on the pasture.  We believe this is a much better model than that used on confinement "factory farms", including "big organic" brands available in the supermarket. Our chickens are slaughtered respectfully and carefully hand processed, which produces a very high quality product. The chickens are available on a consistent basis (twice a month) and can be pre-ordered and picked up at the farm on processing days.  One taste and you'll be hooked! Please visit our website www.punachicksfarm.com  to use our online order form, or email punachicksfarm@yahoo.com
If you enjoy the lifestyle of Hawaii and want more information about making a move here, please let us assist you! We offer resources/guides, access to private Facebook groups, community building events, and personal introductions to our partner Realtors and mortgage professionals around Hawaii!