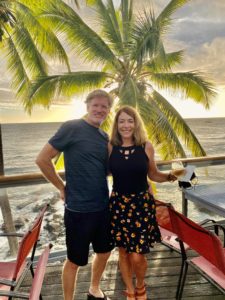 With visitors cautiously arriving in West Hawaii amid the ongoing pandemic, I have received inquiries about which restaurants in West Hawaii offer the "safest seating" with fully open air restaurants being a number one dining experience to seek out. I have also been asked which Farmers Markets are open for safe open air shopping and to also support our local farmers.
(SoapBox second-I know going to Costco is easy when you get off the plane. However, taking time to purchase fresh food from our farmers is going to be an excellent and soulful experience for you and going out to support our restaurants is more valuable than you may guess.)
Here are my suggestions for open air, open air floor plans, patio/parking lot dining and Farmers Markets in West Hawaii. Add more in the comments if you would like!
BEST OPEN AIR DINING IN WEST HAWAII: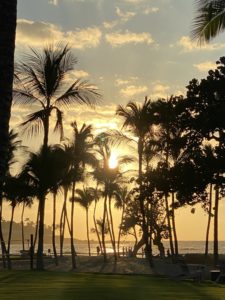 Seriously Open Air:
Kona
Huggos on the Rocks
Kohala Coast 
Lava Lava Beach Club
Canoe House at Mauna Lani Resort
Browns Beach House – Fairmont Orchid
Covered But Breezy Open Floor Plan
Downtown Kona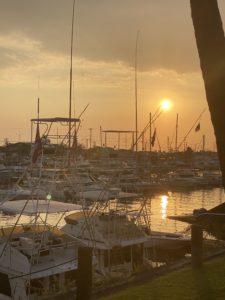 Don's Mai Tai Bar -Royal Kona Resort
Papa Kona's Restaurant
Island Lava Java
Humpy's
Foster's Kitchen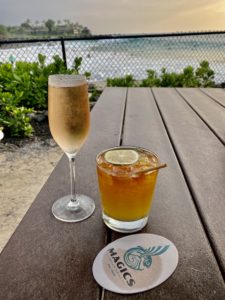 Magics Grill at Magic's Beach
Harbor House at the Honokahau Harbor
Kona Brewery
Kohala Coast
Waikoloa Luxury Cinemas (seriously..great restaurant!)
Kuleana Rum Shack
Consider Also For Kona:
Vegan-Journeys To Good Health and Sweet Journey -(patio dining -front cover photo)
Fish Hopper- most seating near open windows with view
Jackie Rey's – lots of seating near large open bay windows
Food Truck Friday's at HPM Building Supply parking lot on Fridays from 4-7 pm (best food truck experience on the island!)
FARMERS MARKETS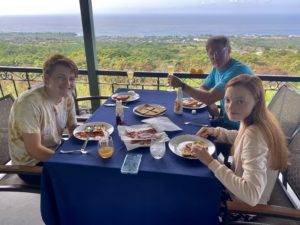 Our farmers on this island and their fresh produce and speciality items are the life blood of Hawai'i Island and a driver of why people like to visit – so they can taste the unique and delectable tastes of tropical fruits and vegetables they can't get on the mainland or in other countries people are traveling from.  Walking through most of the markets, you will not only encounter farmers, but artisans and small business owners who would appreciate your business, especially now as the island is working on recovery. 
Eating at your condo with your own view is a safe way to dine AND you can still support our local farmers!
Please wear a mask with a smile and shop and enjoy eating fresh food!
For a fun video showing the Keauhou Farmers Market near Kona AND the Hilo Farmers Market, check out the video we did in February 2020.
FARMERS MARKETS NEAR KONA
Farmers markets in and around Kailua Kona and Captain Cook (south of Kona).
KONA VILLAGE FARMERS MARKET
Directions: At the intersection of Hualalai Rd. and Alii Dr., in the parking lot next to the Kona Public Library (across from Hale Halawai) in Kailua-Kona
Market days: Wednesday to Sunday from 7:00 AM to 4:00 PM
KEAUHOU FARMERS MARKET
Directions: Keauhou Shopping Center, fronting Ace Hardware. 78-6831 Alii Drive, Kailua-Kona, HI 96740-2440
Market days: Saturdays between 8:00 AM and 12 PM (noon)
THE PURE KONA GREEN MARKET
Formerly known as the South Kona green market.
Directions: Located at the Amy Greenwell Botanical Gardens across from the Manago hotel in Captain Cook
Market day: Sunday between 9:00 AM and 2:00 PM (HINT-get there early! Parking can be tough as this is a very popular market)
There are several farmers markets in and near Waimea. The four largest markets in Waimea are:
The Waimea Town market, open Saturday between 7:30 a.m. and noon.
The Waimea Homestead farmers market, open Saturday between 7 a.m. and noon.
The Waimea mid-week market, open Wednesday between 9:00 a.m. and 2:00 pm.
The Kamuela Farmers Market, open Saturday between 7:30 a.m. and 1 p.m.
For more information about the Farmers Markets, Edible Hawaiian Magazine created a beautiful guide to all the Farmers Markets. 
If you find yourself falling in love with Hawai'i Island while you are visiting and want to learn more about if the island is right for you to live here, what it would take to make Hawaii home and what are the prices of  homes and more-we are here to help! Go to the Resources page to search for real estate and read my other blog posts to learn more on this site! You can also sign up for our newsletter and join our private groups. Email Julie@Ziemelis.com to learn more!