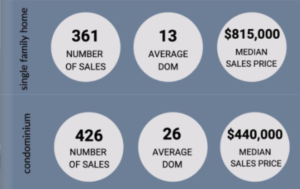 Confidence is returning to the Oahu real estate market for both buyers and sellers. Record low interest rates and people returning to work are driving demand and pushing buyers back into the market which is in turn pushing sellers to put their properties on the market. Even without a bustling arrival of new home buyers, homes are being sold sight unseen across the islands. 
While sales are still below what they were at this time last year, the month over month increases in number of sales continues to be a promising sign. Condo sales have declined more drastically, a 17% decrease when compared to July 2019, and single family home sales have dropped only 3% when compared to July 2019. Compared to June 2020, condo sales have increased 36.5% and single family homes have increased 19.5%.
This trend remains true for new listings as well. Hawaii Central reports that while new listings are down for single family homes and condos when "compared to last month new listings for single family homes and condos are up 7.7% and 9.9% respectively."
Altos Research, our favorite real time real estate stats company, reported that in Honolulu for September, home sales have been exceeding new inventory for several weeks. Since this is a Buyer's market, prices are not yet moving higher as excess inventory is consumed. However, as the supply and demand trends continue, the market moves into the Seller's zone, and we are likely to see upward pressure on pricing.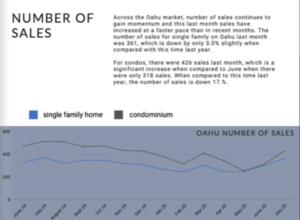 Information provided courtesy of LUVA Real Estate, where Eric Ziemelis holds his real estate license.