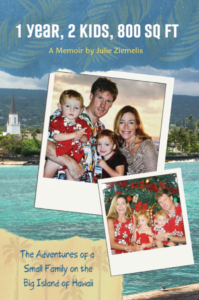 I am SUPER excited to announce the launch of my newest book! Unlike the other two books I wrote, "
How to Move to Kona
" and "
The Insiders Guide to Buying Real Estate on Hawai'i Island
" this is a story about our family and my determination to spend one year living on an island and taking a risk to do something adventurous in our lives. Not only did we find adventure, we fell in love with this island, we got out of our comfort zone and we grew closer as a family and changed our lives. As you can see, the "one year experiment" has lasted over ten years!
Here is the synopsis of the book: 
One Year, Two Kids, 800 Square Feet
 is an adventure anthology of the struggles and triumphs of what happened when Julie and Eric Ziemelis moved their family from Silicon Valley into a one bedroom, one bathroom 800 square foot condo for a one year renovation and family adventure on the Big Island of Hawaii. The family's year of adventure and adversity was chronicled
 through J
ulie's "Talk Story" emails she sent out to friends and family while living in Kailua Kona, Hawaii from August 2005 through July of 2006.
 Julie takes you on a life changing journey from California to Kailua-Kona, including current retrospective insights and wisdom after each chapter. From the exploits of working on a dolphin/whale boat, to taking a vacation condo down to the studs while caring for a one and three-year-old, to exploring the island and trying to fit into island life, this  "travelogue/mommy blog of adventures in a new culture on a tropical land" is a snapshot of island life in 2005.
Reasons to Read
I wove Hawaiian culture, place names, and ways to live Aloha into the insights of the book, along with a few surprises for my long time readers and fellow lovers of this island. You'll laugh at the crazy I found in working on a dolphin charter boat for the first time, the "Before HGTV" experiences of renovating a vacation condo with two small kids and how we dealt with a flying cockroach attack, facing down loneliness, and discovering the island's mana.
Download or Hard Copy-Your Choice!
You can get the download here for $15 right now,
or you can pre-order the hard copy book for $20, which I will sign and send to you when I receive the box of books. Shipping cost is $5. The first ten people to order the hard copy will receive 365Kona stickers in the book as a bookmark and as a thank you!
I have been talking about our first year in my blog posts here on this page–now you get the whole story!