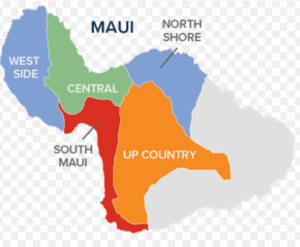 The Maui real estate market, utilizing sales stats from September, the year to date overall trend is Buyers are getting more active especially for condominiums in the resort areas of South and West Maui.  Interest rates are increasing slowly but not enough to impact buyers.  The inventory continues to drop with a 5 month supply on the market with a 158 Days on Market for the total market.  Two key figures to watch will be the inventory dipping to a 3 month or less supply signaling a Sellers Market (low inventory, high buyer demand).
The market has been moving on Maui with the volume of homes on the island increasing 35.4% for the month of September.  Condominium sales are increasing with 38% over last month and 9.9% for the year.  New projects are having an impact on this as new homes that have been under construction have started to close, so expect to see more of this over the next few months.
Sales prices are continuing their steady climb of the last few years with the median value of homes increasing 9.4% to $695,000 year to date.  Condominiums also showing strong gains with a median value of $450,000 for a 7.1% gain year to date.
As with other markets on the islands, low interest rates and the newfound ability to work from anywhere is driving interest in buying real estate and either using it as a second home or primary home to start a new life post COVID.


Due to continued and increased demand, inventory has dropped steadily for the resale of existing units on the island.   The total Active inventory of for Homes on island is down -10.8% for September 2020 with Condominiums showing a -22.3% drop which relays to about a 5 month supply.  Pending Sales show a strong increase of 10.6% for Homes and 14.4% for Condos.
"As we look towards the fall, we normally see housing activity begin to slow a bit as the back-to-school season begins, but this year is far from normal. While uncertainty remains on what effects the upcoming elections and any seasonal resurgence of COVID-19 may have on the financial and housing markets, the healthy housing demand we see today will create significant tailwinds in the near term", states the Maui Real Estate Association.
If you would like more information about the current market and forecast of trends, let us connect you with one of our trusted advisors on Maui so you can get market reports for specific neighborhoods or area of the island that you may be interested in. You can also be placed on a listing alert so you can see what is coming on the market in your price range so you can gauge how the market is performing.