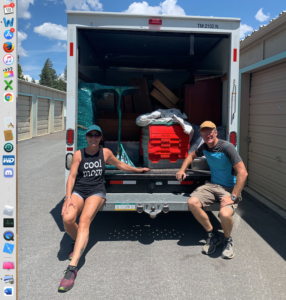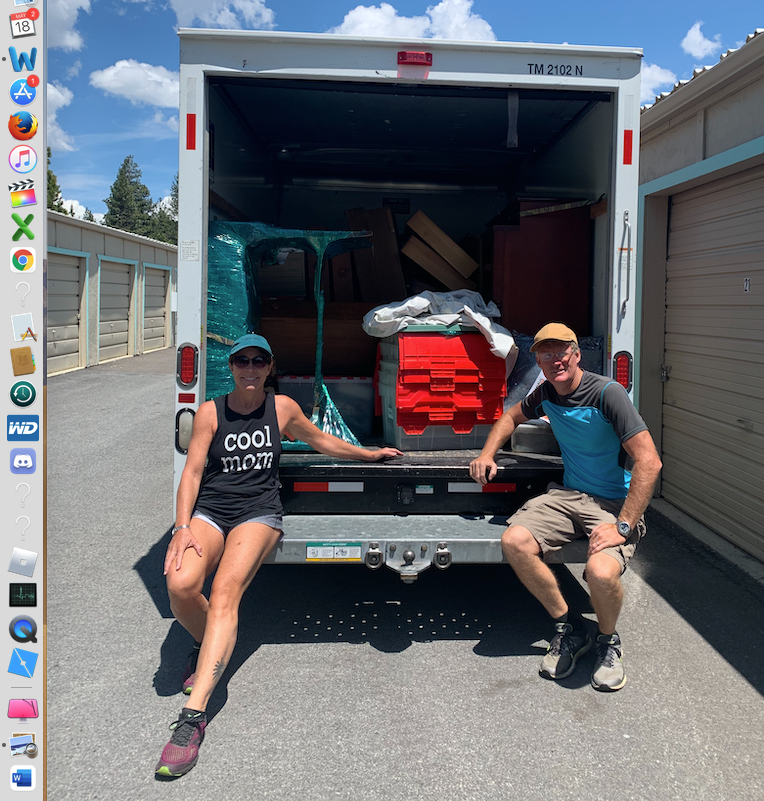 Moving to the islands can be as easy as putting all your most important items into a few hockey bags and jumping on a plane like we did, or an intricate experience where you are moving an entire house hold over with pets and kids. Each person creates their own journey based on what they have to do to tie up their old lives and prepare for their new lives.
A current client of ours wrote this when I asked her to share a moving checklist she created: "Oh Julie, had I known what I was getting into, I am not sure I would have had the courage, but now I am happy to be where we are in the process! We are closing our house tomorrow at 12:30 and then it will be a matter of running out the clock here. So happy and nervous and excited and so many emotions right now. I cannot tell you how much we have appreciated yours and Eric's help!"
I will tell you..having the advice from others is VALUABLE INFORMATION!  I asked members of my private homebuyers group for input on THEIR move RIGHT before they made the leap and they provided some fantastic insights. Check list at bottom!
Real Life Advice From Folks Who Moved to Hawaii Island
Sue Ellen C: I think lining up a place to land is probably the #1 thing that we did that helped us to organize everything else around. Once we had a move in date, it helped so that we could do things like get airline tickets, and figure out dates for vet visits and when to sell the house and pretty much everything else that had to flow backwards from that. Getting rid of clutter early helps both with just the cost of moving but also getting house ready for sale. Selling higher value items also takes more time so if not bringing, probably starting that early. I will think of more. We also started talking to the car shippers and shipping companies. It's hard to plan shipping if you don't know what you are taking.We also had to make sure that we had the rabies certificates and titers uploaded to Hawaii quarantine program and had a plan for how we were going to get the fur babies to Hawaii. That was so hard to figure out because of plane sizes and crate sizes and flight restrictions, weather temp, all that.
J. Berg: I'm exactly six weeks out. Yesterday I spent the entire day getting everything ready for my tax appointment next month. I also made a list of every business I need to contact about my address change, and worked on that. I have been getting ready for a yard sale, which is being postponed a bit due to my fall last week. I start Medicare the day after I arrive, so I am about to go to Kaiser's website, to see if I can get in there. I have already taken care of my car, and moving pod situation. What I still have to do is go through my stuff, other than furniture, to figure out what stays, and what goes.
Stephanie P: At about 6 weeks out I was arranging our POD to be dropped off, sending dept of Ag my papers for animals to be direct released, arranging animals cargo flights, making appointments to drop off cars at port to ship. Deciding what stays and what goes. Making multiple trips to goodwill.
Heather W: About 6 weeks out I was just finishing up vet visits for my dogs arrival and visiting family and friends before our flight to our forever home! Although my decision to move and moving all happened within 3 months, I planned everything in the early stages to make it as smooth as possible and it paid off
Kristen J: About 6 weeks out I was making sure all the documents and paperwork was ready to go for moving my 3 cats over! That was tough also trying to land renters in my mainland home when I moved to Waikoloa I still had not found renters for my house in seattle! I was tying up lose ends with the kids school in waikoloa and also packing up our 5 suitcases. ( that's all we came with, we rented a furnished home) what I wish I had been doing is making sure the home was properly rented for Bug infestations. And that a regular bug guy was maintaining the property.
Nicole M: If you don't already have a place to buy or rent be ready for the docks to call for your destination address. They have minimal storage and want to move it ASAP! They found space for out stuff but because it takes a while to close and erratic shipping times (they quoted us 6 to 8 weeks but got to us in 4) be ready to scramble if you can't move in yet or have an alternative option.
Cindy H: We were purging everything in our 3-story house in Washington and buying suitcases and bins to bring the bare essentials on the airplane. We were also finishing up the dog paperwork — this was the hardest part. We were listing our home and planning on some last-minute improvements to up our sale price. We were watching the Real Estate market in Kona and just hoping there would be a great house for us when we got here. We ended up buying land to build and luckily we have a condo to live in until it is finished). We were finishing up doctors and dentist appointments and filling prescriptions as we didn't know how long it would take to find doctors here. We were giddy with anticipation. Best decision ever to move here ahead of schedule thanks to virtual work.
Lil A. Not the norm here…BUT we found out we were moving AT 6 weeks & somehow managed to pack/store/lease 2 properties on a whim, arrive with 6 pieces of luggage, 2 cars (a month later) & start new jobs….yep were crazy but like a little unexpected adventure! My advice is linking to your groups!! It has helped me tremendously!
Jana M: Six weeks before we moved here, my husband drove one of our vehicles to LA and sent it over on Mattson Shipping, then flew home. Then three weeks before we were due to fly to Kona, we took an epic road trip and visited as many national parks as we could, showed up in LA, dropped off the second car at the shipping company, then took an Uber to the airport to fly over with two suitcases each. When we landed in Hilo, we Ubered over to pick up the first car, which was already here. Worked out perfectly.
Julie Z
: When I made the move, there was NO ONE I could ask for advice! I didnt realize that ANYONE moving to Hawaii has to hold painful garage sales and scale down their stuff in order to move to a whole new way of life. I wrote this blog post about my experience a few years ago-I cry every time I read this :
"58 Boxes-A Moving Story" 

MOVING CHECKLIST EXAMPLE:
One of our clients, Sue Ellen C., is currently purchasing a home in Kona and shared her list with me to help others. Thank you Sue!!
Hawaii Move Checklist
Shipping Logistics
Arrange Storage Facility
Name:
Phone:
Dates:
Address:
Arrange Pallet Pickup for
Shipper Name
Phone
Date
Arrange Car Shipping
Name
Phone
Date:
Drop off location:
Pick up location
Pack household goods
Mainland Home:
Updates/painting/cleaning
Hire Realtor:
List
Close Mainland Home (home address)(date)
Vet appt for health certificate, acclimatization form, breed verification
Date: (14 days before)
Time
Forwarding Address for mail to USPS
Spouse 1- Hawaii Driver's License
Spouse 2- Hawaii Driver's License
Documents needed for car registration:
application for registration (form online)
title
bill of landing
prior registration,
Hawaii auto insurance
"failed" safety inspection
Car 1 Registration: need weight of car on title
Safety "Inspection"—initial will "fail" due to lack of registration
Hawaii registration
Re-inspection with registration
Car 2 Registration: need weight of car on title
Inspection—Initial will "fail"
Hawaii registration
Re-inspection with registration
Find Hawaii House
Set up listing alert
Realtor:
Phone:
Escrow
Get hazard Quote from (Insurance company)
POC: __________
Rental Policy Quote for (Insurance company) (Effective Date)
Wire option money to Escrow
Wire Balance to Escrow
Get Car Insurance issued
Set up Auto-pay for monthly Insurance
Set up Renters Insurance for Rental
Cancel Insurance with Goosehead
Rabies vaccine before (Date) (90 days out)
Rabies Titers Vet Appt (Date)
Get INK signed rabies vaccine certificates:
Rabies tags : (Insert tag numbers)
Send in application to Hawaii Quarantine for pets
Passenger Tickets for Hawaii (One way)
Date
Flight
Airlines Cargo (large pets):
Airway Bill Number:
Reserve rental car for arrival
Agency:
Dates:
Mortgage Application
Agent:
Company:
Phone:
Purchase Airline Pet Carriers—Cats
Purchase Cargo Pet Carrier—Dog
Ship initial small goods (USPS/UPS) (mid-January?)
Open Bank Account in Hawaii (see below)
Switch to Renter's Insurance with (Insurance company) for leaseback
Policy Number:
Policy Period
Cancel Once in Hawaii Rental House on (Date)
Confirm Uber to airport for (Date/Time)
Remind (2nd vehicle) of pickup (Date/Time)
Prepare animal crates:Confirm crate sizes for cargo (plane must be large enough for required crate)
Food taped to crate
Food/water bowl in each crate on door
Sign with last food/water offered, when to offer next
Pet paperwork
For Hawaii Dept of Agriculture:
https://hdoa.hawaii.gov/ai/aqs/aqs-info/Application
Titers
Microchip numbers:
Health Certificate
For airlines:(Call to confirm requirements)
Breed verification form
Acclimation letter
Shipping agreement
Health certification for travel
Vaccine certificates
Hawaii House closing (Date)
Update Mailing addresses on all accounts
Turn on utilities/services (Hawaii House)
Electric
Water
Cable/Internet service
Update USPS mail forwarding
Pest service (centipede)
Sign up for disaster alerts:https://member.everbridge.net/371914103062563/login?fbclid=IwAR3ytxEpmu8OPI5_jg7QynUwgIGq20A-LqiI-qjzsnek48ULv2S_WuU7m0s
Points of Contact
Realtor: Eric Ziemelis!
Bank/Bank account numbers
Mortgage company
Moving company
Car shipping company
If you would like a PDF of this checklist, email me at Julie@Ziemelis.com
Join the 365Ohana!
If you are looking to get more great advice like this, join the 365Ohana and be part of the community where all these helpful people share even more great advice on my private Facebook group!