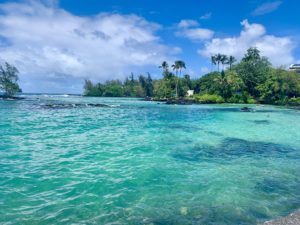 When you think of Hawaii, you think of blue water and white sand-yes?
Most people traveling to the East Side of Hawaii Island, don't think of this part of Hawaii for its luxurious and noteworthy beaches. But to disregard this part of the island would be a mistake..especially if you LOVE lagoons and gorgeous blue water. For what Hilo lacks in classic beaches, it more than makes up for it in unique and amazing places to jump in the water and find turquoise nooks and crannies among lava rock, black sand and tidal areas 
We take you to four of Hilo's beaches located about 10 minutes out of the city center. We rode our bikes to all the beach parks, which saves you from finding parking, if you go.
Here are the parks in the video and more info about each one:
1. Lehia Park -https://lavadogshawaii.com/lehia-park/ (You can bring your dogs!)
2. Carlsmith Beach Park-https://www.gohawaii.com/islands/hawaii-big-island/things-to-do/beaches/carlsmith-beach-park-four-mile
3. Onekahakaha Beach Park-http://hawaiibeachsafety.com/big-island/onekahakaha-beach-park
4. Richardson Beach Park-https://bigislandguide.com/richardson-beach-park
Here is the video we created when we visited Hilo.
These beaches are all located just a bit East of the town of Hilo. 
If you are considering buying a home in East Hawaii, we have excellent Realtor and mortgage professional partners! Let us connect you and also enroll you in our new 365 Ohana program so you can get information all along your journey to making Hawaii home!  Send us a note at JulieZPR@Gmail.com
You can find resources and my books at 365Kona.com/MovingToHawaii
Learn more about Kailua Kona and West Hawaii at
www.365Kona.com
https://www.instagram.com/365konahawaii
https://www.facebook.com/365Kona/