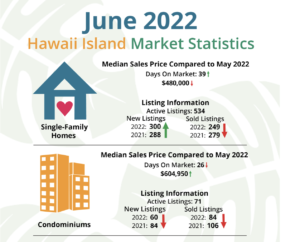 What goes up, has to come down at some point. The Hawaii real estate market is in "the shift" that many people are seeing around the country now as the intended consequence of rising interest rates to curb inflation by the Feds has hit home. The drop in the stock market lately has also caused jitters for folks who have seen their investment portfolio shrink and hopes for homebuying are put on a shelf. What does this mean to the housing market in Hawaii?
Well, take a look at the stats for Hawaii Island in June. Inventory/listings are starting to slowly build with longer days on market. As you can see new listings are above this time last year and sold listings are down for single family homes. New condo listings are down and so are sold listings as the inventory remains tight, but sellers who have to sell, may take concessions.
I was in my weekly Keller Williams Realty team meeting with agents from both Maui and Big Island this morning and they gave us two stats charts that I wanted to share so you can see where we are with the market compared to California, a huge feeder market for our island, especially West Hawaii. What usually happens there, comes to us in terms of trends, but it appears that while California's market is softening, Hawaii's market is softening even more. (Welcome to investors and second home buyers saying now is the time to wait and see).
If you look around the US, inventory is rising and sellers are offering price cuts.

Were you one of the buyers who decided to sit out and let other buyers join in the buying frenzy and over bidding wars over the past year? This may be the time to come back and take a look.
We are seeing more inventory come on the market in West Hawaii daily and its much more normalized than it was a few months ago, which gives buyers a time to breathe, think, visit the property, ask questions and all the things that happen when buyers don't want to feel rushed into making a major financial and lifestyle decision.
If you are considering buying a home in Hawaii, let me know and I can put you on a listing alert AND invite you to our twice a month stats and trend reports we do live on Zoom and Facebook. If you are considering selling, our team can help you price your home correctly and market expertly to buyers.  Email me at Julie@Ziemelis.com.
Julie Ziemelis is a REALTOR with Keller Williams Realty- Maui- Big Island Division. She also wrote the books, "How to Move to Kona" and "The Insiders Guide To Buying Real Estate on the Big Island". She has been in the real estate industry for over two decades and enjoys providing information, insight, connections and resources to her clients.