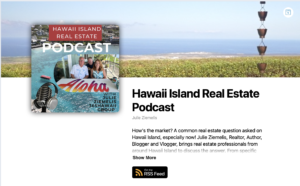 We are very excited to announce the launch of our Hawaii Island Real Estate podcast!! We are utilizing the information that our 365Hawaii real estate and mortgage partners are sharing with us three times a month with the videos we produce, to create the show!
We hope to add more interviews to the mix in the coming months on top of our market updates, but this is a great start and allows you to listen to the info on the go!
You can listen to the West Hawaii Real Estate update with myself and Lance Owens, LUVA Real Estate or the East Hawaii Real Estate Update with Amber Haley, REAL Homes, and our monthly TTT, with Jana Mahoney, Keller Williams, Delania Branham, eXp Realty, and Marla and Scott Wynn, the Wynn and Eagan Team/Citywide Home Loans. We are the only real estate team that produces information that covers most of Hawaii Island for our listeners in a variety of price points.
Ready For Your Listening Enjoyment
We have our two August updates on the podcast and will be uploading the TTT from the August 25th show next week!  Click on the photos for the link to the shows or go to the main page to see what goodness we have loaded up for you to listen to!
Lance and I have been doing live market updates for almost three years and Amber has been part of the monthly TTT for over a year sharing her East Hawaii expertise. My other partners have been part of the TTT since 2021 and have years of experience working in their markets. I am VERY fortunate to have tapped their talent and expertise in order to give you such fabulous and helpful information about the market AND how to buy real estate and get a mortgage on Hawaii Island!
If you are considering purchasing or selling your home, please reach out to me directly. Eric and I DO sell real estate, too AND if you wish to be referred, we would appreciate the opportunity to that for you (AND when you do, you get to be part of our 365Ohana!)
Email me directly at Julie@Ziemelis.com