Climbing Out of the Hawaii County Housing Crisis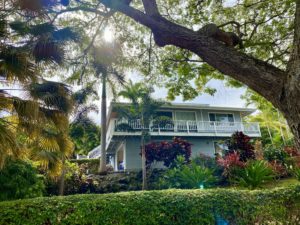 I recently wrote a post on my "365 Things to Do in Kona" page about ringing the bell about our County and the state losing workers to the mainland due to high housing costs. We lost hundreds of workers due to the pandemic and when it was time to reopen, not only were workers gone, but the homes they used to live in had steep rent increases. And then the "great real estate buy up" happened in 2021 and 2022, almost doubling the median price of homes and condos in West Hawaii. Amid all of this, building new subdivisions came to a standstill 9 years ago due to water issues. Beyond the perceived lack of available water, the price of homes have increased due to lack of supply, amid a rapid increase in demand, and now the prevalent problems with permitting, cost of building supplies and labor.
Meeting With the State Chief Housing Coordinator
This brings me to the Economic Development Committee meeting I attended yesterday with the Kona Kohala Chamber of Commerce with the Chief Housing Coordinator, Nani Mederios. In a nutshell, these are her goals: How to add more affordable housing across the islands by working with the counties to eliminate unnecessary regulations, offering incentives to builders, updating outdated state rules and getting incoming state directors to think about how their disparate departments can contribute to the goals.
Ms. Mederios reported that newly elected Governor Josh Green has put housing at the top of his list. He is working with the County mayors, including our own Mitch Roth, to start making a variety of changes to help make the building of homes move faster, and with less cost, with a hard look at where government is adding burdens and where those can be alleviated, minimized or removed.
The state has, in the past, passed along the costs of infrastructure to developers. It has become so expensive to build with the extra burden of infrastructure, that many developers just won't attempt it in Hawaii. Ms. Mederios shared that homeowners pay twice for a new home, once to cover the extra cost that developers have to put on the price of a home while building infrastructure AND the property taxes to maintain and build other infrastructure on the island, as well. They want to stop that and just make state funds available to Hawaii County to build the necessary infrastructure itself.
They are also working on modernizing the current process to develop housing, provide incentives to the County to digitize the process and get proper staffing. They are taking a deep look at the entire process of building homes in Hawaii and digging deep into what may be causing delays and cost issues and will work to remove those hurdles to reduce the costs of building housing. They are working to get consensus from the water department, land use commission, and other government agencies that all touch housing in some way. Nani said that government has added alot to the cost of housing and now they are  looking at State building codes and policies that have passed in the past few years to see what may be adding to those costs.
Being Transparent And Communicative To The Public
Ms. Mederios said the Governor and the Mayor have the will to do the work to implement changes that are necessary and work towards utmost transparency as their work goes forward. They want to educate the public on what they are doing and do outreach to get input for priorities.
The key element that the committee discussed to get housing moving along: Approve and get funding for three main wells that will get shovels in the ground of building new subdivisions in West Hawaii. 
Ms. Mederios said that the Governor will look at the pipeline of new projects that are out there and asked our group to send them our pipeline of new housing projects to be reviewed and hopefully given the green light. The top officials created a "Build Beyond Barriers Working Group" to help expedite the process. This will help the Department of Public Works and all the people who deal with water and building to make sure these projects don't get stuck.
They are working with the State Attorney General to get emergency proclamations in place for March and a process of accountability to speed up the process with funding.
The economic committee asked Ms Mederios to reconvene in six months to provide an update on what happened between now and then. Both the Hawaii County Housing Director and Director of Water were on the call and plan on working with Ms Mederios, as well.  I am also on a Housing Task Force with the Chamber that is actively supplying ideas to the Mayor to get housing on ALL income levels built to start to alleviate the crisis we currently find ourselves in. I will report as I can!
Julie Ziemelis is a REALTOR with Keller Williams Big Island, RS-85062
Julie has been a housing advocate for 25 years and continues to work to educate the public on homeownership and advocacy.