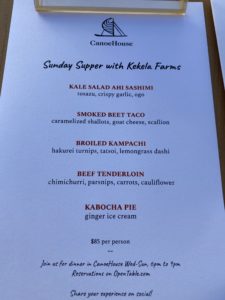 How many times have you dined with a farmer? How about dining with a farmer at a table at a luxury resort in Hawaii while enjoying the produce he and his wife grew a few miles away?
My husband and I had the unique and throughly tasty opportunity to dine with Paul Johnston and his wife Betsy at the Canoe House at the Auberge Mauna Lani on the Kohala Coast last night. Paul is the founder of the Waimea Town Market located at the Parker School in Waimea. He founded the market in 2008 and before COVID boasted over 55 vendors.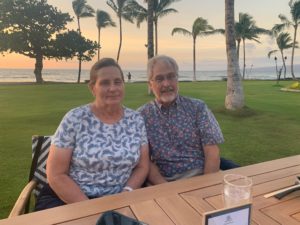 Paul and Betsy own Kekele Farms, a sprawling 22 acres of open field and green houses off of Mana Road in Waimea where he grows 100 varieties of 30 vegetables. He and his wife were a delight to talk to over beets, parsnips, creamed cauliflower, Kobucha and more while watching the sunset at the Canoe House. What's the connection you may ask? The Canoe House features a Sunday Supper, a 5-course tasting menu featuring the farms of Hawai'i island. Diners experience the freshest possible produce, grown within minutes of the resort, and meet the passionate farmers who plant, grow and harvest them. Each guest leaves the evening with a special recipe and shopping list from Chef Matt for your next Farmer's Market trip.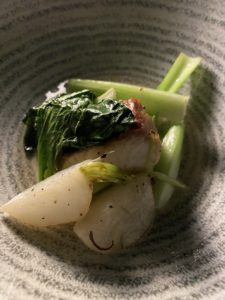 How fantastic was eating fresh locally grown food with the couple who actually planted the seeds? AMAZING! We had a chance to talk story with them about their experience in finding the right produce to grow to fit with the menu needs of the resorts on the Kohala Coast. And interesting to note, lettuce is the winner.
We really enjoyed the Smoked Beet Taco with goat cheese, cabbage and scallions, and the soft and delicious Beef Tenderloin accompanied by chimichurri, cauliflower, carrots and parsnips.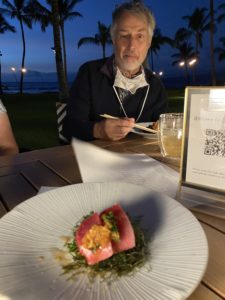 Here is a little tidbit for you; We enjoyed Kabocha pie with ginger ice cream for dessert. Kabocha is a type of winter squash, a Japanese variety of the species Cucurbita maxima. It is also called kabocha squash or Japanese pumpkin in North America.
One of the best aspects of the Canoe House is you are dining with the most spectacular view of the ocean, with the palm trees and the sunset framed perfectly from your table. Add to the experience with a glass of wine or hand crafted cocktail and you have one of the most memorable experiences you are likely to have in Hawaii. Seriously. Go and enjoy.
Sunday Supper menu is available only on Sundays! Next week, September 27, 2020 they will focus on the same farm, and then they will rotate in some new partners, all Big Island farms! Regular dinners are served 6-9pm Wed-Sun. Make your reservation here on OpenTable  . 
Eric and Julie Ziemelis are lifestyle specialists living in Kailua Kona. We offer a complimentary real estate matchmaking (referral) service for people considering purchasing a home in any of the Hawaiian Islands. Contact us directly at Julie@Ziemelis.com