Looking for a consistent supply of freshly harvested fruit and veggies? Wondering how to support our local farmers and improve our island food security? Contact your local food hub.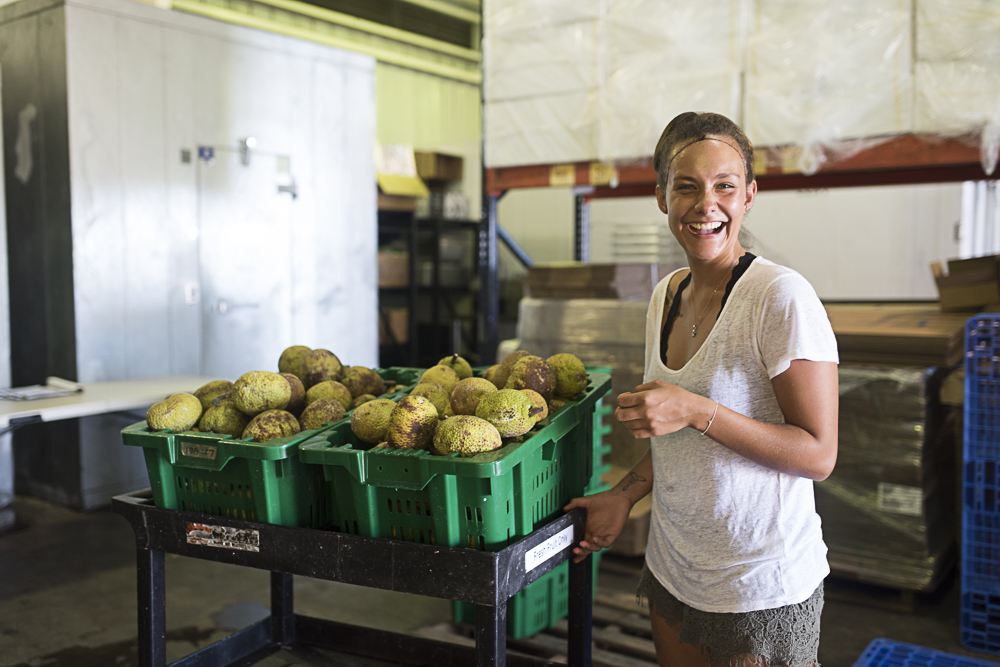 (Production Supervisor Leilani Aveiro of Hawai'i 'Ulu Cooperative, gets ready to process freshly washed 'ulu (breadfruit) in Honalo. The co-op partially cooks and freezes 'ulu, kalo, sweet potato and kabocha squash to make recipe-ready pieces of these crops, plus hummus, mousse and flours. Photo courtesy Hawai'i 'Ulu Cooperative )
Have you stopped to wonder what would happen if the ships stopped coming to the island? Where would you get your food?
While the pandemic may have put a positive spin on the importance of growing and buying local, it also made us all think a bit harder about food security on our island. "We're on life support. We depend on almost all of our food and the means for production for the food that we grow here on other people who are far away," says Craig Elevitch, an educator in agroforestry and regenerative human agroecosystems. "We don't have in place the kinds of systems Hawaiians had and other Pacific Islanders still have, so we are very much dependent upon our technology. We've lost sight of food security and resiliency of our food system." That is where food hubs come in and have the ability to help our island in times where the ships or planes may not be coming.
Hawai'i Island food hubs are buying, selling and moving locally produced foods that feed our families and star on the menus of island restaurants. Providing a vital business connection between local farmers and long- or short-term residents, chefs and retailers, the islandʻs six food hubs work behind the scenes to offer CSA (Community Supported Agriculture) boxes, weekly online markets and local commodity distribution to grocers, restaurants and resorts.
Personally, I have utilized the services of Adapations and have had the pleasure of not only enjoying the tastes of amazing fresh, local and unique fruits and vegetables, but also knowing my money goes to support farmers so they can rest assured they have a market for their products.
The island's food hubs are located in Kona, Kohala and Hilo. Each has a different focus and distributes food differently but all make accessing local food easy and convenient. Some participate in SNAP/EBT (Supplemental Nutrition Assistance Program/Electronic Benefit Transfer) and DA BUX Double Up Food Bucks to offer a discount on qualifying SNAP purchases.
Moving fresh food in a timely manner, the hubs find buyers so the farmers and ranchers can focus on producing food while being ensured their hard labor will not go to waste. That in turn, encourages farmers to produce more food as they know it will be purchased.
Hawaiʻi Island food hubs include Adaptations in Kealakekua, Hawaiʻi 'Ulu Cooperative in Honalo, the Kohala Food Hub in Hāwī and three hubs in Hilo: OK Farms, Ho'ōla Farms and The Food Basket.
"Folks need to understand that buying local agricultural products is our only path to food sustainability," emphasizes Troy Keolanui at Hilo's OK Farms. "The learning curve is steep and hard to achieve."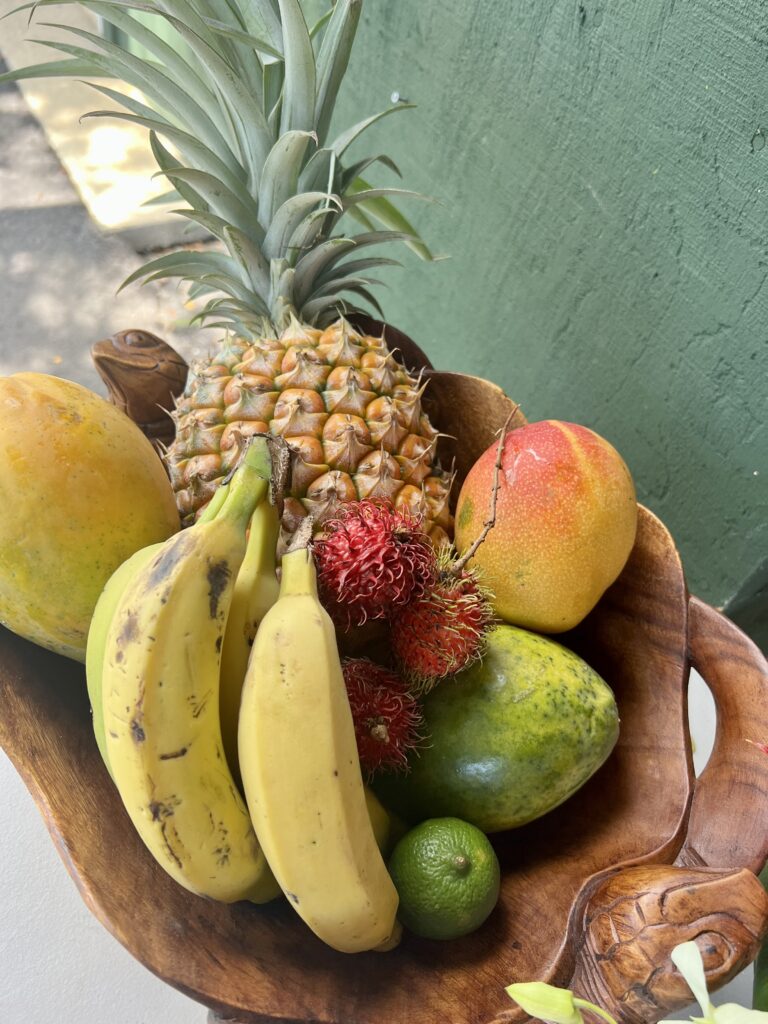 Adaptations
The state's oldest food hub, Adaptations in Kona operates as both a certified organic farm and a food hub with statewide distribution to CSA subscribers, restaurants and grocers. The for-profit company carries an average of 450 local food products that vary seasonally, sourcing from 180 small and medium-sized farms on Hawai'i Island and Maui. Owner Tane Datta and daughter Saffron also offer a line of crafted botanicals.
"Our marketing and distribution operations connect growers of all scales with consumers of all scales," notes Adaptations co-owner Maureen Datta. "Our primary goal is to retain and expand the acres of land in food production by serving family farmers, gardeners and backyard growers with aggregation, distribution to market and education about quality control and packaging."
Adaptations' Fresh Feast CSA offers island-wide users a variety of options: weekly or twice-monthlysubscriptions, pick up locations and payment plans, including SNAP/EBT. Subscribers receive an automated email detailing each week's pre-selected produce box and they can remove and replace contents via their online "cart," or add additional items like pizza dough found on the Fresh Feast webstore. There's a producer profile and description for every webstore item and recipes are shared via the automated email.
Lindsey Isola of Kailua-Kona has been a Fresh Feast subscriber for almost two years. She and her husband moved here from California, where they used a CSA "to eat fresh, nutrient foods and support local farmers." The fitness and wellness coordinator at the Four Seasons Resort Hualālai Spa easily picks up her Fresh Feast box at work where a drop-off location services Four Seasons employees. Full- and part-time Hualālai Resort residents get Fresh Feast home delivery for a nominal fee and Adaptations allows part-time residents to put their subscription on hold when not in town.
For info, https://adaptationsaloha.com.
"Food hubs are the cog in the wheel of our local food system," says Rachel Kaiama, destination manager of the Island of Hawaiʻi Vistitors Bureau. "They are the engine improving our local food security." The Hawaiʻi Tourism Authority's Destination Management Action Plan (DMAP) for Hawaiʻi Island, supports and promotes agritourism initiatives to connect local producers with visitors and encourages the visitor industry to buy local produce, products and goods.
Here is a list of all the food hubs on the island:
Adaptations Inc: https://adaptationsaloha.com

Hawai'i ʻUlu Cooperative: https://eatbreadfruit.com

Hoʻōla Farms: www.hoolafarms.org

Kohala Food Hub: www.kohalafoodhub.com

OK Farms Food Hub: www.hawaii-eco.com

Hawaiʻi Food Basket Da Box CSA: www.daboxbigisland.org
When you choose to call Hawaii Island home, understanding some of the lifestyle challenges and opportunities is important, please share this article with others who may benefit and can help make our island home a place where our farms expand our and security grow.
Julie Ziemelis is an author, blogger, vlogger and Realtor at Real Broker, LLC. Check out our 365Hawaii YouTube channel for more Hawaii Island lifestyle education and entertainment and for real estate information, go to the "365Hawaii Real Estate Minute" YouTube channel.