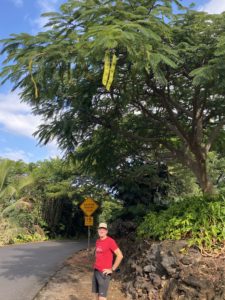 From walking on the Walua Trail to visiting and interviewing vendors at the Pure Kona Green Market to meeting and eating with Chris Colby, owner of Island Ono Loa Grill, we show you some fun lifestyle moments on a Sunday in Kailua Kona!
The popular Walua Road walking and biking trail borders the bottom of the Kona Vistas subdivision with the trailhead at Lako Street.  This paved trail, with an abundance of shady trees and fragrant flowers extends 3 miles south, and has some areas restricted to non-motorized vehicles such as bikes, skates or pedestrians. Joggers, dog walkers and strollers are a common sight with the trail acting as a community hub.
(PATH volunteers help keep this trail looking good!)
Living an active, healthy and socially minded life here in Kona is the BEST! We hope you enjoy learning more about some of our local farmers, artists, restaurant and small business owners. Support Local!
Pure Kona Green Market FB page: https://www.facebook.com/SouthKonaGre…​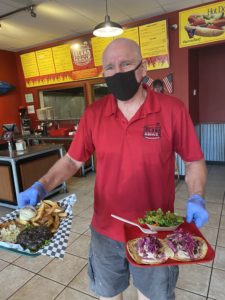 Island Ono Loa Grill website: https://www.islandonoloagrill.com​
Do you want to live the life in West Hawaii? We offer a fantastic new service called "365 Ohana" to ensure a smooth transition to life in Hawaii. To learn more, email Julie@Ziemelis.com