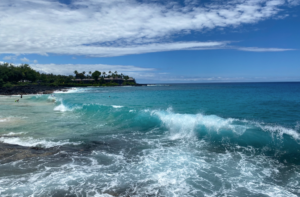 As tourism returns to the islands (and a few folks look to make Hawaii their new home, too!), I wanted to touch upon a few aspects of island life to help people who may not know some of the things that can happen to you as a visitor or a resident that perhaps no one warned you about hard enough. Here are a few things that will ruin your vacation or just your day, week or life in Hawaii that you should know:
1. The Ocean Surf Will Kill You (Or cause bodily damage)
From a Jeep rental company owner today on Hawaii Island: "We had a customer yesterday airlifted off the beach to Kona Community Hospital after being hit by, what her husband called, a rogue wave. She's ok, but after an MRI, she's being sent back to Washington state for surgery.
Not only is this a terrible way to start a vacation, but it's a reminder to those of us who frequent these beaches often, to always respect the ocean and know your personal limits.
I happen to be a strong swimmer and have always joked I can swim better than I can walk. But regardless, no matter how many times I've been in that water, I evaluate carefully every time. Not only for myself, but also those I'm with who may not be as strong of swimmers.
At the end of the day, the ocean is a powerful force and we can't always be prepared for these situations but we can do our best. Know your limits and error on the side of caution when not sure. The buddy system is great regardless of what water activity you're doing, just make sure someone knows where you're at. And if there's a significantly stronger swimmer in your group, make sure they're aware of the limits of the other members in the group. This was a good reminder for me so hopefully it is for someone else, too."
2. You Can Drown While Snorkeling
Have you ever been to Black Rock in Maui? The Sheraton is right there and the seemingly easy entrance to that bay is right there, too, along with signs that visitors rarely read about the dangers of the rip currents. I was out swimming close to shore when I saw a woman struggling right outside the bay. I noticed her husband had tried to crawl up on the rocks on the base of the cliff near where the local kids jump off. I could tell she was in trouble from the look on her face and I could tell he was in trouble because he nestled himself in place that the waves were going to hit him and rake him. Both had been snorkeling and had gone out to the open ocean in front of the cliff and then become exhausted trying to fight the current to get back in. Long story short, I got out there, dragged the woman to safety, alerted the cliff divers to jump down and save the man (who DID get raked on the rocks) and all of us got the visitors to shore safely. And there was not one lifeguard in sight. Because there is a sign that says swim at your own risk and there are strong rip tides. It is a locally known fact that you shouldn't swim past the rocks.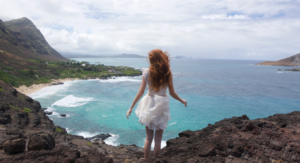 Here are some words of advice taken from a response to the numerous drownings in this area that is relevant for ALL islands, ALL the time: "The ocean is a living thing. It's not a swimming pool, and caution and good safety should ALWAYS be practiced. Surfers, swimmers, and snorkelers can all get into trouble if they don't follow the basic rules."   I highly suggest Googling "drowning in Hawaii". This is the single biggest reason why visitors die on the islands.
The Hawaii Health Department reports snorkel related deaths account for an average of 21 fatal drownings among snorkelers each year and 92-percent of those victims are visitors.
3. Driving Can Be Dangerous
Not sure about the other islands, but it is a fact that impatient AND impaired drivers cause head on car accidents on Hawaii Island due to our two lane roads. (I am sure the road to Hana on Maui has similar issues). Patience is required when navigating our roads, which can be long and boring, like out on an open lava field near Waikoloa, or windy and slow from Kona to Volcano. Sadly when someone is not paying attention, or impaired or impatient, drifts or speeds onto the other side of the double yellow line.The top contributing factors involved in Hawai'i traffic fatalities are impaired driving, speed, and distracted driving (Note: a traffic crash may have more than one contributing factor). Preliminary 2019 figures show 59% of the traffic fatalities that were tested, tested positive for alcohol and/or drugs. Of the 15 fatalities of persons between the ages of 15 to 22, 13 posthumously tested positive for alcohol and/or drugs.
Preliminary data for 2020 year-to-date shows that 47% of fatal crashes involved speed. This tracks with data that shows an average of 46% of fatal crashes in Hawai'i since 2012 were related to speeding.
4.  Cuts Can Turn Into Massive Infections 
When I see someone accidentally kick the coral while swimming near it and come out of the water with a bloody wound, I make it a point to tell them about the dangers of the cut getting infected. Bacteria is everywhere in the environment and severe infections can happen from the simplest of cuts. A Kona friend of mine was diving and nicked his knee on coral. Within two weeks he couldn't walk and was on antibiotics with a raging infection in his knee. In places like Oahu where there is more pollution, run off and sewage in the ocean, some people have gotten cuts with infections that have gone into the bone. (True Story! Link) 
"There's no rhyme or reason why someone gets a particularly bad infection than someone else, except we know it can be prevented," states Dr. Sarah Park, state epidemiologist at the Department of Health. She said if you do get a cut in the water, clean it thoroughly. "If there's no soap available, just flush the hell out of it with fresh, good clean water," said Park.
5. Stepping on A Purple Sea Urchin (Wana)
This is one of those ocean dangers that no one tells you about very often, but if you step on wana (purple spiked sea urchin) you most likely will not be walking without a limp, if you can walk at all. My husband stepped fully onto one a few years ago with his bare feet. He turned white with instant pain and moaned on the couch while dealing with the incredible pain these urchins inflict. YOu can also get them on your hands by climbing up on rocks (including the wall at Captain Cook's monument, so don't do that). The purple spines break off with their toxins inside your  skin and stay there embedded for days or weeks. Trust me, get some water shoes and don't walk on shoreline rocks and in tidepools without them. If you DO get injured, here is a remedy: Soak it in vinegar.
We love helping people with advice about the islands, especially if you plan on moving here. If you are considering moving or buying real estate, we can assist with books, guides, connections, networking, events and more. Email Julie@Ziemelis.com to join our 365 Ohana!