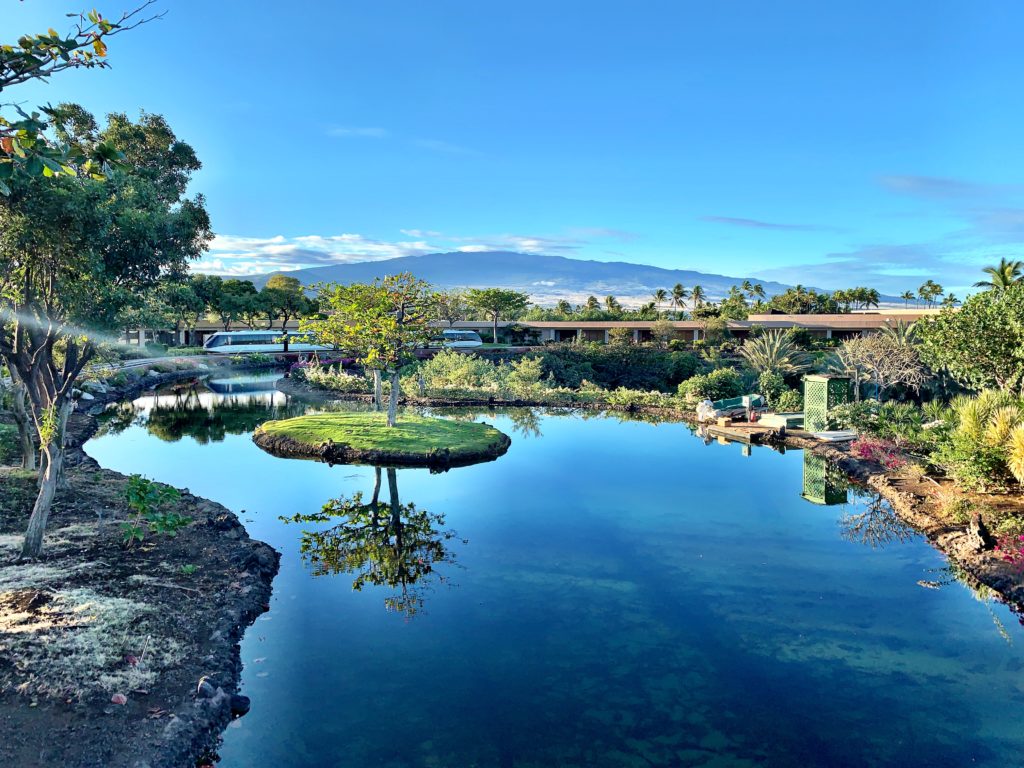 Eric and I have a friend from the Bay Area looking to buy a condo that he can live in a few months out of the year and rent it for the rest. He is not too sure where he should buy, Kailua Kona or Waikoloa Resort. So, we showed him condos in both areas.
Here is what I personally really loved about showing him around Waikoloa Resort area, and why these things ALSO make this area a very attractive place for folks looking to rent a condo or home for their vacations, as well.
Anaeho'omalu Bay (pronounced as "ā'-nāe-ho'o-mā'lu", and often simply referred to as A Bay) is one of the most scenic and perfect places in Waikoloa Resort (or along the Kohala Coast, for that matter!) to put up a hammock between two palm trees, look out over the electric blue bay and put your feet in the sand. The beach has a really nice public bathroom, and right next door is Lava Lava Beach Club for sunset mai tai's and meeting friends.
Shopping Malls–Queen's Market Place  and King's Shops -offer not just unique and interesting shopping opportunities, but both have year round entertainment at the center courtyard. Check out these websites to see the schedule of events.  If you need a quick grocery stop, the Island Gourmet Market has it ALL! Their wine selection is amazing and you can do some wine tasting at the Aloha Wine Bar. This market also has a full deli counter with sandwiches and poke and breakfast platters so you can go to the beach for picnics or take back to your condo and chill.

Kuleana Rum Shack

Restaurants– From Kuleana Rum Shack, to Roy's, A-Bay Grill, and Sensei Sushi, at the malls, or Lava Lava Beach Club, Mai Grille, Tropics and the restaurants at the Hilton Waikoloa and Waikoloa Marriott, you could enjoy a different tasty venue each day of the week.

Proximity To Pretty– Besides Anaeho'omalu Bay, Waikoloa Resort is a short drive to world famous Hapuna Beach with its 1/2 mile long sandy white beach, and Kauna'oa Beach in front of the Mauna Kea Resort and a few hidden gems along the coast.
Nearby Fun-There are golf courses, a movie theater, excellent snorkeling beaches, water sports/boating activities, an outrigger canoe club, free hula shows, concerts and art shows AND a historic walking trail right in Waikoloa Resort.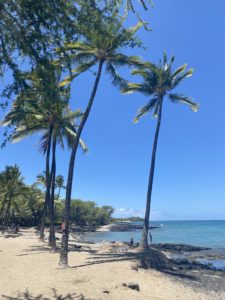 There are over ten condo complexes in Waikoloa Resort ranging from $600k to over a million depending on location and view. This resort caters to families and retirees who enjoy having the freedom to prepare their meals, have the space to enjoy personal gatherings, and have access to their own pools and amenities. We visited the exclusive ocean front complexes of Kolea and Hali'i Kai. Kolea offers two and three bedroom beachfront villas and single family homes and Hali'i Kai Condos. Hali'i Kai is comprised of condos set up like a four-plex and offers an ocean front open air gym and a salt water pool with a waterfall.  These complexes provide you the feeling of being in your own ocean front resort with gorgeous pools and views.
Another condo complex within Waikoloa Resort is the Fairway Villas offering an island-style feeling and are comprised of 2 and 3 bedroom golf and lakefront townhomes ranging from 1,100 to 1,700 square feet of interior living space. Several of the buildings face a small lake, while some of the units offer great views of the rolling fairways. These offer walking distance to the Queens Marketplace, as well.
We created a video to show you more of what you can experience in Waikoloa Resort!

This area is NOT a town, so children would go to school in either Waikoloa Village or Waimea and local jobs would be hospitality focused. Also, this area DOES get some breezy days, but it also has less rain than Kailua Kona which is 30 minutes south, guaranteeing you longer periods of the day to sit in the sun and enjoy blue skies. Most of the condos were built from the 90's til the mid-2000's, and prices reflect the desirability of this area for investors and second home owners.
Our friend is still deciding if he wants to spend part of his time living in a resort town experience of Waikoloa Resort or in Kona Town. Both are completely different and you would want to make a list of what your lifestyle goals were in making a decision to purchase a home in one or the other.
If you would like more information about homes/condos available in Waikoloa Resort, please contact Eric Ziemelis directly at Eric@Ziemelis.com.