With so much focus over the past eight months on what was CLOSING in West Hawaii, I want to show you some amazing bright spots of what has been OPENING over the past few months, including a new vent at Halemaumau at Volcanoes National Park! There is lots to do, discover, eat, enjoy and support local in the list below. I invite you to share this with your friends and colleagues who live in West Hawaii and also for those planning a trip to our island, put some of these on your itineraries to visit. (Hint, live links are embedded in this post in italics)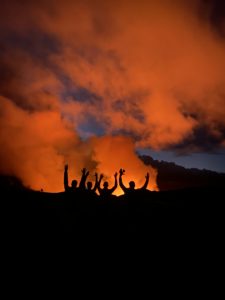 1. Go see the eruption! One of the most exciting new developments that has happened in the past few weeks is the new eruption at Halemaumau Crater at Volcanoes National Park! One of the most exciting things I did in 2020 was rush up to the park and walk the Chain of Craters Road to view the caldera from the opposite side of where thousands of visitors were gathering. Although the lava is not shooting out of the side of the caldera and has formed a lava lake now, the caldera is still offering a beautiful glow and beauty of creation. Volcano House just re-opened on January 1st to take advantage of the surge of visitors wanting to spend the night in the park. They usually rent bikes (not sure if they are now) and you can ride around the park. They are only offering Take and Go food right now, but to wake up before dawn, see the stars and the glow before others get to the park is as unique an experience as you can get.
2. Check out the new restaurants in the Brewery Block! These include Umeke's, Sushi Shiono, Willie's Hot Chicken, and HICo Hawaiian Coffee in the newly constructed area of the Brewery Block, that also includes lower bays that house fun businesses like Soul Center and Puna Chocolate. Willie's Hot Chicken has a bar and they are offering live music and so the entire area in the evening definitely has a fun energy!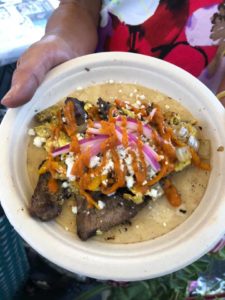 3. Food Truck Fridays at HPM. The owners of Pizza Rovers, a mobile wood fired pizza food truck, gathered a group of other food truck/mobile food providers for a festive Aloha Friday foodie adventure in the parking lot of HPM Building Supply from 4-7 pm on Friday nights. They are looking to create another food truck event in 2021, as well.
4. Healing Anyone? Karen Kerwitz, CMT. PTA, BS opened up her new business, Performance Bodywork at the Alii Gardens Marketplace in December. Karen offers expert level Myofascial Release Therapy and is one of those gems that move to the island with a level of knowledge and experience we are very fortunate to have locally. (Personally, she treated me for my plantar fasciitis and I saw immediate results. I highly recommend her!) Go to her website to learn more. (If you are in any type of physical pain, seriously, contact her!)
5. Red Sunsets. Let's just embrace the VOG in Kona and enjoy the red sunsets. Not a fan? You can always head up the coast towards Waikoloa and get out of the VOG belt which seems to start dissipating around Kua Bay. Keep going and you can find some great food and views at Lava Lava Beach Club, catch a first run movie at Waikoloa Luxury Cinemas, where they will bring dinner and cocktails to your table in the theater, and see some live music at the Mauna Lani Resort on the lawn at sunset for free, Mondays, Wednesdays, and Friday.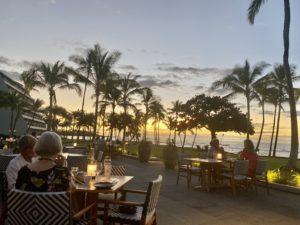 6. Speaking of the Mauna Lani Hawaii Luxury Resort-Auberge Resorts Collection. The resort just went through a multi-million dollar renovation and are offering for a limited time "Daycation Passes" for two which are $195, and $25 for each additional guest up to four. The pass grants you access to their pools, including the new adult pool and hot tub, food and beverage service, complimentary parking, beach access, spa access, fitness center, Kainalu Water Sports, kids activity club, cultural programming, and chairs at the beach. To reserve space, call 808-796-3800. (Make sure to reserve a table at the Canoe House and enjoy the best outdoor view for sunset in West Hawaii!) Looking for pizza to go? Halani Restaurant recently launched a Pizza to Go service, too! See flier below.
7. Papa Kona Restaurant is offering fun live music.  Do you miss live music events? Papa Kona has live music seven days a week now. Our favorite is LT Smooth on Tuesdays and Shina Ramero on Fridays. When you are there, order their tasty Avocado Fries and catch sunset at the upper level of the restaurant. The view is one of the best in Kona.  Here is the link to the music calendar 
8. Looking for Vegan food? Journeys to Good Health recently opened at the Ali'i Market place in downtown Kona. The fact they opened in the middle of a pandemic in the heart of Kailua Village is testament to the fact they saw a need and were determined to fill it. Not only do they have a great team of entrepreneurs working to make the restaurant a success that also offers pick up AND delivery, they have dessert next door with THE best macadamia milk soft serve ice cream at their Sweet Journey Soft Serve  . 
9. The opening of Old Navy! My daughter just got a job at the Old Navy opening to the public in early February. This will be a great place to shop for affordable and fun beach clothing and it will breathe new life into the old Sports Authority building which is slated to also host Island Naturals, moving there in the summer, and Verizon is moving over from another part of Kona Commons.  If you or someone you know is looking for a retail position, they are still hiring.
10. Explore and shop in the new Safeway at the now open Niumalu Shopping Center. With over 63,000 sq feet of shopping space, the new Safeway is HUGE! The rows have plenty of space for social distancing shopping, the floral department is incredible with gorgeous displays and uniquely crafted leis and arrangements. The deli counter has helped feed our hungry family during the holidays with all different kinds of gourmet sliced meats and ready made pizzas. We are waiting to see an announcement of other stores that will also go into the center. FYI: The fuel center has been pushed back to June.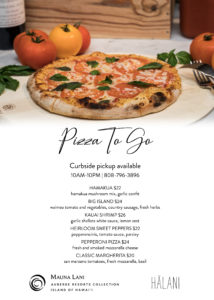 So, you can see there are many exciting things happening that you can enjoy safely while visiting or looking for something to do if you live here. Remember if you are visiting, to bring your Aloha, keep your chemical sunscreen at home and bring mineral based sunscreen or a rash guard and keep our community safe by following mask and social distancing protocols.
If you enjoy life in Hawaii and want to consider moving here or buying a home, check out our resources page for everything you need to make a successful move to Hawaii!