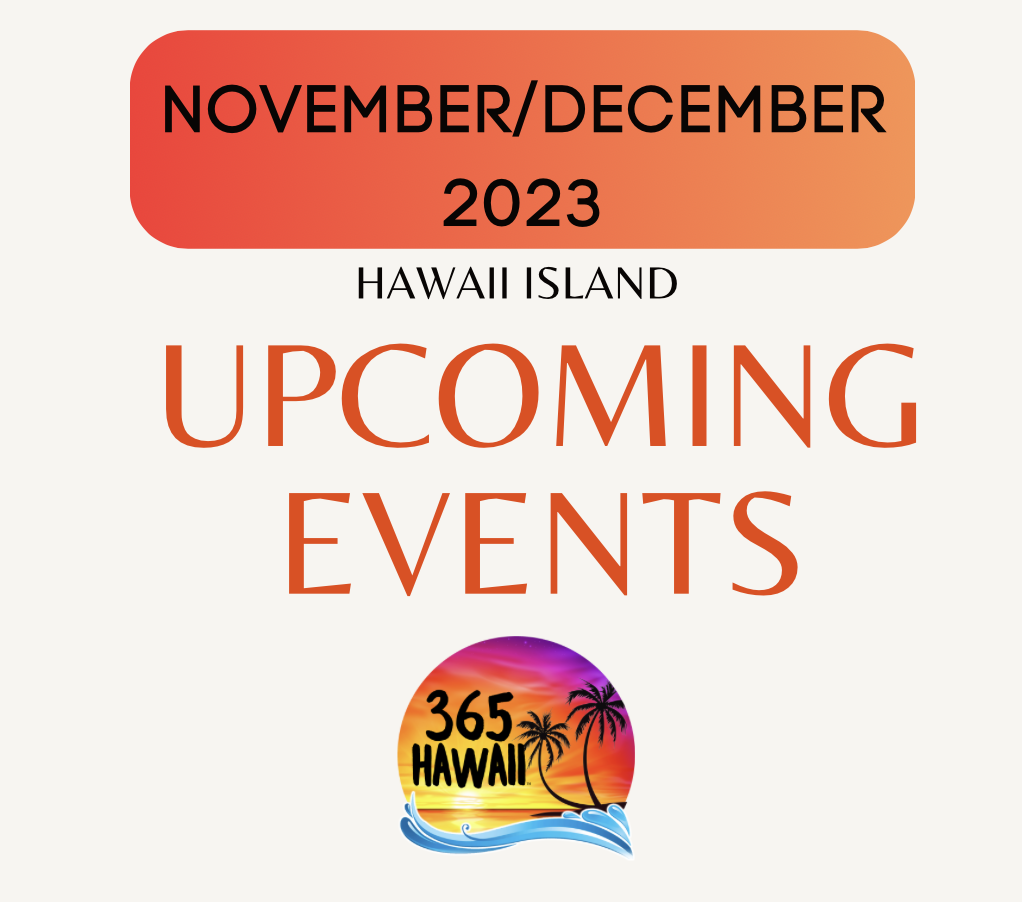 When you think about Fall, you think chilly days, cold and longer nights, people starting to pack it in the for the next few months, right? That is NOT happening here! The island considers this PARTY time with visitors taking a break until Christmas! The humidity is dropping, temperatures are staying around mid 80's and there's only a one hour swing in the sun set (don't forget that Hawaii does not observe Daylight Savings Time.) Hawaii Island is gearing up for big events like the Kona Coffee Cultural Festival, Black and White Night and a Renassaince Faire. Lots of tasty, creative and dancing fun coming up! 
Christmas Parades on the Big Island
December 2, 2923
63rd Annual Waimea Twilight Christmas Parade , Saturday, December 2, 2023 – 5:30PM , 2023 Parade Theme:  
'E Lauhoe Mai Na Wa'a'
'Everyone Paddle the Canoe Together'
Grand Marshal: Pete Hendricks!

December 9, 2023
The 37th annual Kailua-Kona Community Christmas Parade will take place on 
Saturday, December 9, 2023 at 5 PM
. The parade will start at the Kona Pool and Gym, which is located north of Ka`iwi Street on Kuakini Hwy. The parade route will follow these steps:Down Kuakini to Palani,  Along Ali`i Drive to Walua Road, just past Coconut Grove Marketplace.  The parade will feature fireworks!  
https://paradesinkona.com/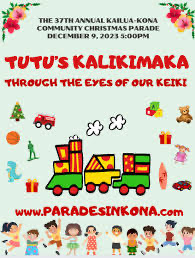 December 9, 2023
20th Annual Kea'au Lighted Christmas Parade beginning  6pm, Kea'au-Pāhoa Rd
For more information: https://keaauparade.org/
.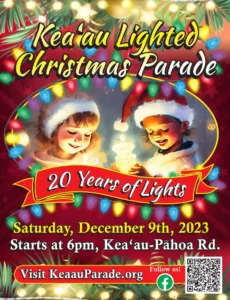 December 11, 2023
The seventh annual Kailua Kalikimaka Lighted Boat Parade beginning at 6 p.m., following the Kokua Kailua monthly stroll and holiday concert. The Kailua Village Business Improvement District invites sailboats, powerboats, canoes and kayaks to be a part of the festive holiday celebration.
Registered boats and canoes line up near Kailua Pier and wind their way around Kailua Bay. Spectators can view the parade of lighted boats from anywhere in the village, including the seawall.  To register to be part of the parade, email HKVevents@gmail.com or call 808-936-9202. Entries are due by Dec. 5.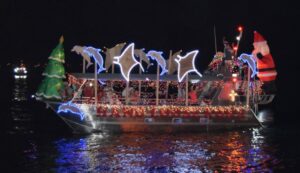 DECEMBER 2023
December 1, 2023
Fashion for a Cause
5:00pm to 8:00pm
Join us for an evening of style and purpose at Kings' Shops, featuring delectable food tastings from A-Bay's Island Grill, Foster's Kitchen, and Roy's Waikoloa Bar and Grill, and refreshing drinks from Ola Brew and Twelfth Hawaii Distiller. Enjoy music by Nā Hōkū Hanohano Winning Artist Blayne Asing, a fabulous silent auction, and fashion show featuring Tiffany & Co., Tori Richard, Michael Kors, NoaNoa, Travis Mathew, Mary Jane's, and Hualakai. All proceeds directly support the American Cancer Society Clarence T.C. Ching Hope Lodge Hawai'i. Located on O'ahu, the 20-room facility is a home away from home, for cancer patients and their caregivers, offering complimentary housing and rides to treatment.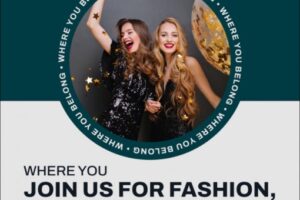 December 2, 2023
Holidays at Kahuku. The Friends of Hawaiʻi Volcanoes National Park are celebrating 25 years of supporting the park by throwing a holiday party for everyone! Come celebrate in Kahuku and enjoy free music, hula, face painting for keiki and shave ice (while supplies last). Local crafts and food will be available for sale. Performances by Hālau Ulumamo o Palikū, the Kipapa Sisters, Shootz, The Jazz Gardeners and Dem Guys. For more information, visit www.fhvnp.org or call (808) 985-7373.
When: Saturday, December 2. Gates open 8 a.m. to 4 p.m., entertainment 10 a.m. to 3 p.m.
Where: Kahuku, just south of the 70.5 mile marker in Kaʻū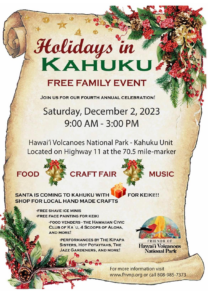 December 2, 2023
 9:00 am – 3:00 pm.
Winter Craft Fair
It will be held on the grounds of Puna Hongwanji. 
There will be numerous craft and food vendors, entertainment, and Puna Hongwanji Boutique. Vendors will be located indoors and outdoors.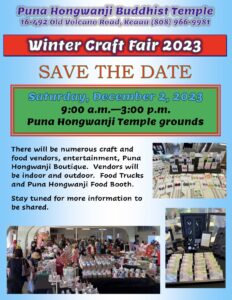 December 2, 2023
32nd CHRISTMAS WITH THE CHEFS FUNDRAISER – KING KAMEHAMEHA'S KONA BEACH HOTEL
Beginning at 5:30pm, Chefs and local culinary students will delight attendees with plates of expertly prepared savory cuisine and delectable holiday treats, all accompanied by local ales, wines from around the world, handcrafted cocktails, and 100% Kona coffee.This annual fundraiser benefits local culinary students attending Hawai'i Community College – Palamanui and members of the Kona Kohala Chefs wanting to further their education. The Silent Auction is a benefit for the Palamanui culinary program through the ACF Kona Kohala Chefs and Jean Hull Endowment Fund. Over the years, the event's scholarship focus has raised over $900,000. Early Bird tickets are sold online until Oct. 22nd. For more info, visit www.konakohalachefs.org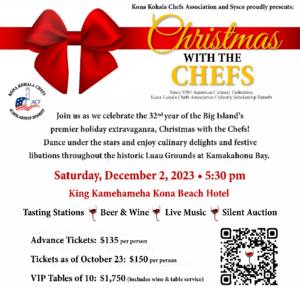 December 3, 2023
1st Inaugural Christmas Tree Lighting @nanimaugardens  4pm-8pm
Meet The Mayor, Stroll The Illuminated Gardens, Bring A Gift For Toys For Tots, Shop Local Vendors, Crafts & Cookie Decorating For Keiki, 'Ohana And Pet Polaroids With Santa 2/$15, Poinsettia & Plant Sale, Food & Drink Concessions Live Music & Entertainment By @levi.tationentertainment BRING THE ENTIRE 'OHANA OUT AND ENJOY THE SIGHTS AND SOUNDS OF CHRISTMAS IN THE GARDEN AT NANI MAU GARDENS IN HILO!
$7/adult $5/Keiki
421 MAKALIKA STREET HILO, HI 96720
Visit: nanimaugardens.com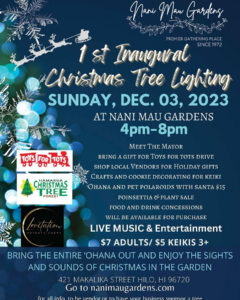 December 7, 2023
The Pineapples Comedy Show Hosted By Mike Vaz at My Bar
7:00pm to 11:30pm
74-5606 Luhia Street
The Pineapples comedy show returns in December with special guest host, Mike Vaz! Get ready for a fun filled night full of standup comedy, games, trivia, and surprises galore. FEATURING: Keith Eikre, Lindsay Roth, and Jesse Mumma! Open mic signups at 7PM. Open mic performers get 5 minutes each and get FREE entry. $10 at the door or $8 prepay on Venmo: 
https://account.venmo.com/u/pineapplescomedy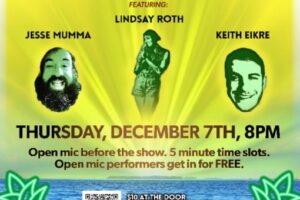 December 8, 2023
Cherry Poppin Daddies-6pm-10pm at the Grand Naniloa Hotel Hilo – a DoubleTree by Hilton
Multiplatinum artists Cherry Poppin Daddies brings their infectious blend of swing, ska, and punk to The Crown Room for an intimate performance. For Tickets: https://www.eventbrite.com/e/cherry-poppin-daddies-in-hilo-tickets-674444711287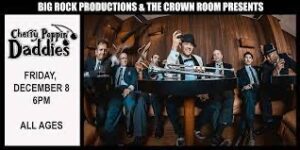 November 9, 2023
Cherry Poppin Daddies-6pm to 10pm at King Kamehameha Beach Hotel Courtyard Marriott
Multiplatinum artists Cherry Poppin Daddies bring their blend of swing, ska, rock, and punk to Kona for an intimate, open air performance.  For tickets: https://www.eventbrite.com/e/cherry-poppin-daddies-in-kona-tickets-674454871677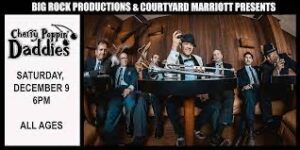 December 10, 2023
Leilani Chrstmas Market 10:00am to 2:00pm
The event is designed to offer wonderful gifts for the upcoming Holiday Season. Gifts, Holiday treats, plants and much more.
"We want to have a venue to bring artists together in time for Christmas. So many in our community are creating and growing some wonderful gifts for the Holiday Season. The Christmas market offers a venue that would give our community the ability to sell and buy locally. Come and see what our Big Island community has to offer."
13-3441 Moku St, Pahoa, HI 96778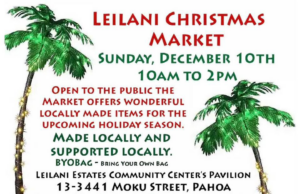 December 10, 2023
1:00pm to 6:00pm
Kokua Kailua Monthly Stroll
Kokua Kailua, the popular monthly village stroll on Alii Drive, happens one Sunday each month from 1 pm to 6 pm. Kona's Historic Kailua Village closes to vehicular traffic and becomes a festive, pedestrian-only outdoor marketplace that makes for a fun family-friendly day. Leashed dogs are welcome to stroll too. Kokua Kailua stretches from Kailua Pier through Historic Kailua Village to Hualalai Road. Highlights include nearly 100 vendor booths showcasing the work of local artisans and crafters, musicians, and merchants offering a fantastic shopping experience and delicious dining options.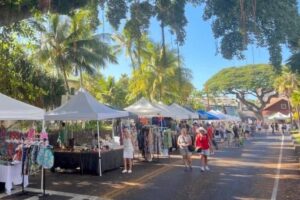 December 14-17, 2023
The 2023 Hawai'i Island Steel Guitar Experience featuring the Hawai'i Island Steel Guitar Festival, will be held at the Mauna Lani, Auberge Resorts Collection, on Thursday through Sunday, December 14-17, 2023. The festival will be presented free to the public by the Mauna Lani, Auberge Resorts Collection and the Hawaii Institute for Music Enrichment and Learning Experiences (HIMELE).
The Experience begins on Thursday, December 14, with performances throughout the day at the Surf Shack and HāLani Restaurant. The Hawai'i Island Steel Guitar Festival's ho'olaule'a concert will be held on Friday, December 15, followed by a public kanikapila. The hotel's monthly Twilight at Kalāhuipua'a program featuring the Hawaiian steel guitar will be on Saturday, December 16, and include performances by NextGen steel guitarists. Sunday brunch entertainment will be offered on the lawn of the HāLani Restaurant. The 2023 experience will also include school visits, workshops, Open Stage performances, a vintage steel guitar exhibit, and hands-on opportunities for festival guests.
Featured performers will include Alan Akaka, Pomai Brown, Ethan Goore, Bobby Ingano, Kapono Lopes, Mālie Lyman, Dwight Tokumoto, and Geronimo "Geri" Valdriz from Maui. Pomai Brown, Dwight Tokumoto, and Ethan Goore are from Hawai'i Island. Also performing will be NextGen steel guitarists Hi'ipoi Lindsey, Enosa Lyman, Tai Misailidis, Isabella Bertelmann, and Makamae Lyu-Napoleon.   For more info info@himele.org
December 15, 2023
KALANI PEʻA
Kahilu 67-1186 Lindsey Road
Beginning 7:00pm to 9:00pm
Three-time Grammy winner & four-time Nā Hōkū Hanohano award winner KALANI PEʻA returns to Kahilu for this special PURPLE HAWAIIAN CHRISTMAS concert. The show will feature special guests Nā Hōkū Hanohano Award Winners Lorna Lim, Wailau Ryder, and featured hula performances throughout the show. Peʻa celebrates the release of his latest holiday album "Purple Hawaiian Christmas". Kalani Pe'a is a singer, songwriter, and producer of Hawaiian contemporary and soul music. Born and raised in Hilo, Hawai'i and now living on Maui, he is a proud Hawaiian immersion graduate, praised for his Hawaiian language fluency, songwriting, and commitment to his Hawaiian roots. Kalani believes music is medicine; Hawaiian music is essential and recognizes the indigenous peoples and lands of Hawai'i. E ola ka hā ("Long live the breath of our people") .   patty@kahilu.org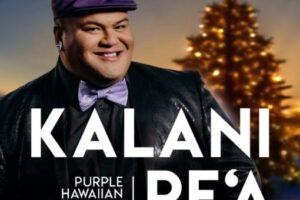 December 23, 2023
9:00am to 12:00pm
The Puna Toy Exchange will be hosting its 5th annual toy exchange again this year at Connection Point Church in HPP! Please share this flyer with others so we can make sure all of keiki have a wonderful Christmas this year! If you would just like to donate and not exchange, the Pahoa Smoothie shack will be accepting donations until 12/22! Please remember to clean your toys before donating and please only donate good condition and fully working toys. Please no broken or missing parts. Mahalo! 
https://www.facebook.com/connectionpointnazarene
December 23, 2023
The Nutcracker Ballet: Performances, 2:00pm and 6:00pm,  at the Kahilu Theatre in Waimea,
West Hawaii Dance Theatre lights up the holidays with a beautiful presentation of the endearing Holiday Classic, The Nutcracker Ballet. This festive, family-friendly production includes more than 55 local dancers and professional guest artists from New York City Ballet, American Ballet Theatre Cleveland Ballet, and more! Both new and original choreography will delight the audience as this iconic and charming fairy tale—based on E.T.A. Hoffman's story The Nutcracker and the Mouse King—is performed to music of Peter Ilyich Tchaikovsky. Join us in this fun-filled fantasy that captures the spirit of the season. Big Island 2023 Nutcracker is sponsored by Valerie Cartwright and Richard Olazaba. Tickets: www.whdt.org Information: info@whdt.org Two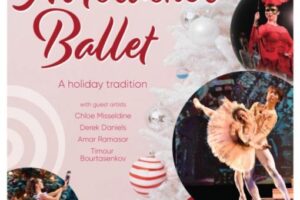 December 25, 2023
Looking for dinner on Christmas Night in Kona?  Celebrate Christmas in paradise with an all-you-can-eat feast!  Christmas Day Buffet Kona Beach Resort begging 5pm to 8pm.  For More Information Call (808) 329-2911
STARTERS
Fresh Bread Display
Lobster Bisque
COLD STATION
Chopped Island Greens, Garden Vegetables,
Assorted Dressing
"Local Style" Potato Salad
Pasta Salad, Shaved Ham, Sliced Olives,
Peppers, Red Onions
Shrimp Cocktail, Wasabi Cocktail Sauce
Traditional Poke
Spicy Poke
HOT STATION
Steamed Rice
Chef's Choice Seasonal Vegetables
Ginger-Black Bean Crab
Pan Roasted Chicken,
Mushroom Cream Sauce
HOT STATION
Pork Vinha D'alhos
"Chinese Style" Steamed Island Catch,
Hot Sesame Oil
PRIME RIB CARVED TO ORDER
Served with Au Jus and Horseradish
PASTA STATION
"Build Your Own"
DESSERT STATION
A Selection of Chef's Sweet Treats
$85.00++ Per Person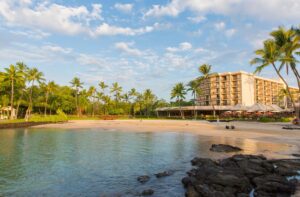 Ongoing Events, Farmers Markets and Craft Fairs
Kona Farmers Markets
KONA VILLAGE FARMERS MARKET
Directions: At the intersection of Hualalai Rd. and Aliʻi Dr., in the parking lot next to the Kona Public Library (across from Hale Halawai) in Kailua-Kona
Market days: Wednesday to Sunday from 7:00 AM to 4:00 PM

ALIʻI GARDEN MARKET PLACE
Directions: 75-6129 Aliʻi Drive, Kailua-Kona
Market days: Tuesday – Sunday from 10:00 AM to 5:00 PM
HOʻOULU COMMUNITY FARMERS MARKET
Directions:Located on the Lawn in front of Outrigger Kona at Keauhou bay – 78-128 Ehukai Street, Kailua-Kona, HI. 96740
Market days: Every Wednesday and Friday between 09:00 AM and 2:00 PM
KEAUHOU FARMERS MARKET
Directions: Keauhou Shopping Center, fronting Ace Hardware. 78-6831 Alii Drive, Kailua-Kona, HI 96740-2440

Market days: Saturdays between 8:00 AM and 12 PM (noon)
SOUTH KONA FRUIT STAND
Directions: Near the old Higashi Store, between mile marker 103 &104. 84-4770 Mamalahoa Hwy, Captain Cook
Market days: Open 9am-5pm Monday and Wednesday through Friday, Closed Tuesdays. Open on Saturday & Sunday from 10am to 4pm.
THE PURE KONA GREEN MARKET
Formerly known as the South Kona green market.
Directions: Located at the Amy Greenwell Botanical Gardens across from the Manago hotel in Captain Cook
Market day: Sunday between 9:00 AM and 2:00 PM
FARMERS MARKETS NEAR HILO
UNCLES ʻAWA BAR AND THE KALAPANA NIGHT MARKET
At the end of highway 137 where the 1990 lava flow covered the majority of the Kalapana village and the famous Kaimu Black Sand Beach.
Directions: 12-5038 Kalapana Kapoho Beach Rd, Pāhoa, HI 96778.
Market days:
More information: The venue for the farmers market (Uncles ʻAwa Club) is also opened daily from 7:00 AM on. There is a smoothie shack and 'Uncles Kitchen' which serves BBQ plates, local style food plates, burgers, appetizers, and fresh fish burgers or plates from 11 am till 7 pm. Uncles ʻAwa Bar is open from 10 am till closing (website).
HAKALAU FARMERS MARKET AND FOOD SHARE
Directions: TEMPORARY Location: Hakalau Veteran's Park (see the website linked below for the most recent location)
Market Day: Tuesdays afternoon between 3 pm and 5 pm
More information: at the Hakalau farmers market website.
HILO COFFEE MILL "MARKET @ THE MILL"
(between Hilo and Volcano)
Directions: Hilo Coffee Mill Farm, 17-995 Volcano Rd. (Between Mile Markers 12 and 13)
Market days: Saturday between 9:00 AM and 2:00 PM
More information: Market @ the mill website
HILO'S FARMER'S MARKET
Directions: Corner of Kamehameha Avenue and Mamo Street
Market days: Wednesday and Saturday between 7:00 AM and 2:00 PM. The market is also open all other days of the week between 10 a.m. and 2 p.m., but there will be less vendors.
More information http://Hilofarmersmarket.com
KEAAU VILLAGE FARMERS' MARKET (KEAAU)
The Keaau village farmers market is a small farmers market in the village of Keaʻau, 8 miles (15 minutes) south of Hilo.  You can find most of the fruit, vegetables and flowers/plants that most of your bigger markets have.
Directions: on the open parking lot between McDonald's and the Shell gas station (16-573 Old Volcano Road, Keaau, HI.)
Distance from Hilo: 8 miles (15 minutes by car)
Market days: Tuesday to Saturday between 7:00 AM and 5:00 PM
More information: The Keaau farmers market doesn't have an online presence, but try this facebook page.
The Maku'u Farmers Market is a large market with stalls for up to 200 local merchants and artisans.  You can find produce and food at the market, and a wide variety of new and recycled products including crafts, plants, jewelry, clothing, books, and more.  They boast several food trucks and stalls that the locals have come to love.   Its the place to be to "talk story" and find special gifts and fresh produce. 
Directions: on the Makuʻu Farmer's lot along the Keaʻau/Pahoa Hwy. bypass road between Keaʻau and Pahoa.
Distance from Hilo: 15 miles (22 minutes by car)
Market days: Sunday between 8:00 AM and 2:00 PM
More information: on their website, 
Nanala Sunset Farmers Market 
KINOOLE FARMERS MARKET (HILO)
This is a good stop if you are looking for a  local (less touristy) farmers market in Hilo. The Kinoole farmers market prides itself to sell only 100% Hawaiian grown products, the best of which sell out early.
The best things sell out early so make this a stop at the start of your day if you are interested in visiting.
Directions: next to Kuwate Seed Shop, two streets Ma Kai of Puainako Town Center. 1990 Kinoole Street, Hilo, HI
Market days: Saturday between 06:00 am to 11:00 am
More information: try the Kinoʻole farmers market on their facebook page or website.
PANAʻEWA HAWAIIAN HOME LANDS FARMERS' MARKET (HILO)
The Keaukaha Panaʻewa Farmers Market is committed to helping the Panaʻewa and island community, local farmers and food providers offer fresh, Hawaiʻi grown and/or produced products. The market aims to support food and environmental sustainability and to foster a sense of community among people from diverse backgrounds.
Try to drop by if you are shopping for groceries at the shopping mall next door for a more local taste of Hawaii.
Directions: This market is located on land leased from the Department of Hawaiian Home Lands along Railroad Avenue across of the Home Depot parking lot (363 Railroad Ave, Panaʻewa)
Market days: Saturday between 6:00 AM and 10:00 AM
More information: visit the Keaukaha Panaʻewa Farmers website for the newest updates.

 
HILO TOWN (FRIDAY NIGHT) MARKET
New to the island with the kick off event on October 1st, 2021. Here are the preliminary details:
Directions: 69 Waianuenue Avenue (near The Temple and Jackie Rey's — directly across the street from Mo's Fish & Chips)
Market days: Friday afternoon/evening from 5pm – 8pm
More information: See the Hilo Town Market website.

 
VOLCANO AND KAʻU FARMERS MARKETS
Farmers markets near and in Volcano Village. The Kaʻu farmers market is on the road between Kona and Volcano.
VOLCANO FARMERS MARKET
Directions: 19-4030 Wright Road, Cooper Center, Volcano, HI
Market days: Sunday between 6:30 AM and 10:00 AM
More information: Directions and photos of the Volcano Village Farmers Market
KAʻU  (NAʻALEHU) FARMERS MARKET
(in Naʻalehu between Volcano and Kona)
Directions: The Ma Uka (mountain) side of the highway just before the 77 gas station and Bay Clinic (when coming from Hilo/volcano).
Market days: Wednesday and Saturday from 8:00 AM to noon (Wednesday is the main market day with most vendors)
More information: Directions and photos of the Kaʻu (Naʻalehu) Farmers Market website: https://www.okaukakou.org/
PARADISE MEADOWS IN KAʻU (FARM STAND)
(not a farmers market but a farm stand with locally produced produce, coffee, honey, macnuts, and chocolate)
Paradise meadows is a 75 acre farm close to the most southern point of the USA. Their farm stand is open 7 days a week from 9 AM – 5:30 PM where you can get free samples of the products in sale and also get enjoy a brief tour of the farm.
Directions: About 7/10ths of a mile down South Point rd from the turnoff at Hwy 11 (between mile markers 69 and 70)
Farm stand days: the stand is open 7 days a week from 9 AM – 5:30 PM
More information: on the Paradise Meadows website.
WAIMEA FARMERS MARKETS
Farmers markets in and around Waimea including one in Hawi (north of Waimea) and Waikoloa (between Waimea and Kona). We have dedicated a spacial page on the 4 most popular farmers markets in Waimea (market days: Saturday and Wednesday) where you can a more in-depth description and photos.
FARMERS' MARKET AT HĀMĀKUA HARVEST
The Sunday Farmers' Market at Hāmākua Harvest offers only locally produced goods, ono food, live music and a free educational event weekly. Drink a coconut, buy a t-shirt and experience the warm hospitality of Hamakua. SNAP/EBT welcome!
WAIMEA TOWN MARKET
Directions: Parker School Behind the Paniolo Country Inn. 65-1224 Lindsey Road, Kamuela, HI
Market days: Saturday from 7:30 AM to noon
More information: Pictures and directions for the Waimea town farmers market https://waimeatownmarket.com/
WAIMEA MIDWEEK FARMERS MARKET
Directions: Pukalani Stables. 67-139 Pukalani Road, Kamuela, HI
Market days: Wednesday between 9:00 AM and 2:00 PM
More information: Directions and more info on the mid-week Waimea farmers market https://www.waimeamidweekfarmersmarket.com/
KEKELA FARM
Note that this is a *farm* market, not a *farmers* market. This means that you can buy farm-fresh produce from one provider (the Kekela farm) at the following two locations:
Directions: 64-604 Mana Road, Kamuela, HI 96743
Market days: Tuesday between 2:00 PM and 5:00 PM at 64-604 Mana Road
Directions (2): Waimea Town Market at Parker School, Kamuela
Market days (2): Saturday between 8:00 AM and 1:00 PM
More information: Kekela farm website
KAMUELA FARMERS MARKET
Directions: Pukalani Stables. 67-139 Pukalani Road, Kamuela, HI
Market days: Saturday from 7:00 AM to noon
More information: Directions and more information on the Kamuela farmers market
KINGS' SHOPS FARMERS MARKET (AT THE WAIKOLOA BEACH RESORT)
Directions: 250 Waikoloa Beach Dr, Waikoloa Village, HI 96738, USA
Market days: every Tuesday from 9 AM to 2:30 PM
More information: The Kings' Shops weekly Farmers Market is held throughout the center and features local produce, crafts and freshly made pastries and jams.  More information at the 'weekly events' section of the kingsshops website.
UNDER THE BANYAN'S FARMERS' MARKET (HAWI FARMERS MARKET)
Directions: Held at the Kohala Village Hub on 55-514 Hawi Rd, Hawi, HI 96719.
Market days: 

every Saturday from 8:00 am to 12:30 pm at the 1Heart Hub

More information: Read more about this farmers market on Hawi famers market facebook page.
Hawaii Island has some great events coming up! If you know of others that you would like to share or upcoming events for the Fall, email me at Julie@Ziemelis.com. Please share this calendar to support our awesome business owners and events planners!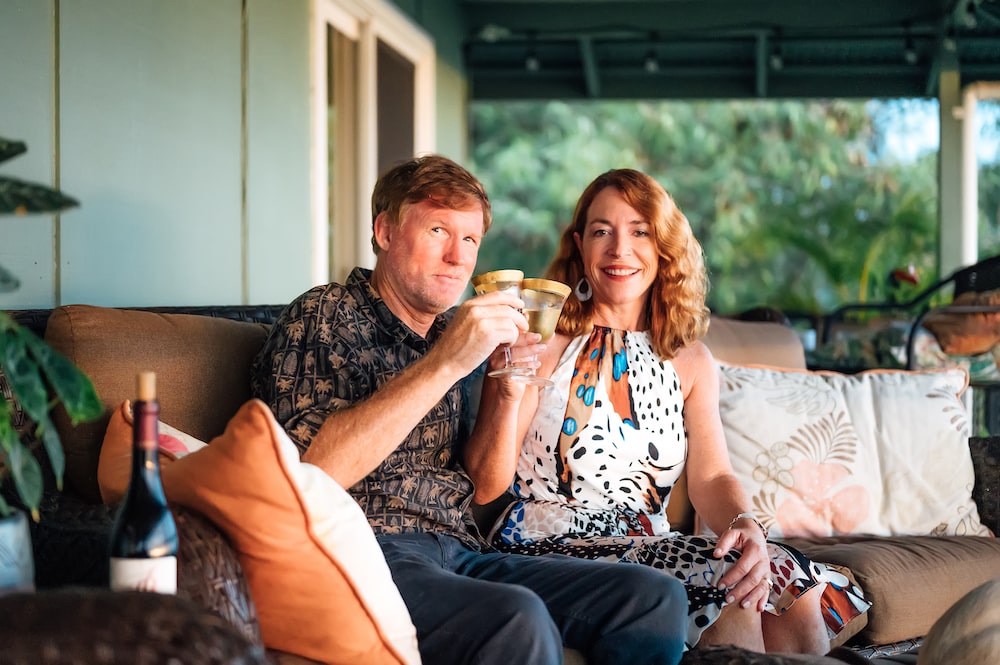 The event calendar for Big Island Hawaii is sponsored by the 365Hawaii Group of REAL Broker. Team members are Julie and Eric Ziemelis, Realtors and founders of 365Hawaii YouTube channel, the 365Kona Newbies Group, Hilo Newbies Group and Kohala Newbies Group. Our focus is making Big Island a better place to live by creating community and opportunities for Aloha.
Thinking of buying real estate or just learning more about purchasing a home? Join our 365Ohana! or email Julie at Julie@Ziemelis.com